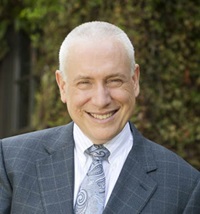 ---
St. Luke's has set out to achieve better health, better care and lower costs for the communities we serve. There are a great number of initiatives that St. Luke's is pursuing that address one of those aims and many that address two, but it is far less common to have an initiative that is the trifecta and hits all three.
St. Luke's orthopedic physicians are doing just that with their approach to developmental hip dysplasia. Their approach also encompasses two of St. Luke's primary strategies in becoming one of the nation's top health systems: the reduction of irrational variation and the use of evidence-based practices. And from start to finish, the care is patient-centered with the best interests of our patients constantly in mind.
Here is the report from blog editor Roya Camp:
- David C. Pate, M.D., J.D.
---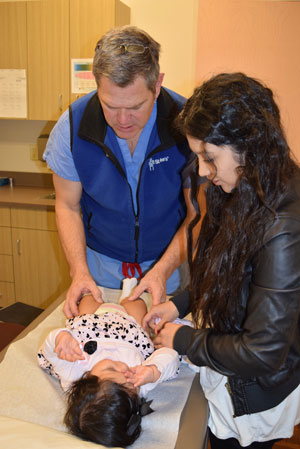 Dr. Buzz Showalter, Andrea Hurtado and her 10-month-old daughter, Jalexa Vega. Dr. Showalter is assessing the baby's hip alignment. 
Many of the St. Luke's physicians and clinicians who set their sights on eliminating surgical site infections are now taking aim at a bothersome condition that can put a damper on a pleasant childhood – and have costly consequences if not addressed early.
While not common, developmental hip dysplasia is easily corrected in most babies when identified at an early age. That makes the condition a prime candidate for the types of medical challenges some St. Luke's surgeons and clinicians are making a habit of pursuing – opportunities that hit the "better health, better care and lower cost" bull's-eye.
Dr. Kevin Shea, a St. Luke's orthopedic surgeon, and his pediatric colleagues are developing an evidence-based care map for pediatric hip conditions, with the potential for significant returns in the form of better care for patients, reduced costs and improved lives for entire families.
This time, the target is the hip dysplasia and dislocation that can develop in children. Relatively rare and more common in girls, human hip dysplasia is a spectrum disease, ranging from incomplete development to complete hip dislocations.
If a dislocated hip is identified before a child is about 6 months old, the joint can be repositioned with a brace. If picked up in the first year, the condition is relatively easy and inexpensive to treat.
And if it is not identified until a later age, treatment can be much more complex and costly. Multiple surgical procedures may be required, and patients have a much higher risk of developing hip arthritis by age 40. A major reconstructive procedure may cost at least $20,000, and one or more procedures may be needed by the time a child is in the teen years, with the total cost of care easily reaching $100,000 or more.
The impact on the lives of children and families is equally significant, including recovery from surgery and lost time from work, school and childhood activities.
"It's a condition that matters because of the negative impacts when it's missed," Dr. Shea said. "It's a fairly distinct problem and when it occurs, it's a real issue for families. We felt we could do a better job by standardizing the treatment pathway, reducing variation and improving quality and value."
The hunt for a better approach started with a water-cooler conversation, Dr. Shea said. He and a colleague, Dr. Larry "Buzz" Showalter, had been concerned about the variation in treatment, and felt a more standard approach would improve outcomes.
Dr. Showalter, also an orthopedic surgeon, and Dr. Shea wanted to create a pathway that would ensure that patients would receive the right test at the right time, anticipating the possible need for referral. The running conversation found a focus about a year and a half ago, when an American Academy of Orthopaedic Surgeons' clinical guideline on the condition was released.
"We had talked for years about, 'Gee, it would be great if we had a good guideline to manage this condition,'" Dr. Shea said.
The guideline's general recommendations gave them a starting point, and they were off. In short order, a working group of pediatricians, a family practice physician, a radiologist, a national expert in Florida and the orthopedic physicians was assembled.
Over a six-month period, at a half-dozen meetings, the team hammered out a patient-centered care map that can be the basis for a consistent, efficient, evidence-based process of evaluating and testing for pediatric hip dysplasia. St. Luke's has used such care maps, which allow for tailoring but which are proven structures and which can serve as a sort of macro order set or care bundle, for joint replacement, smoking treatment and diabetes.
The map has been reviewed, feedback has been incorporated, and the team is now meeting with St. Luke's primary care physicians to determine how it can be implemented systemwide. Dr. Shea is hopeful the map might become a St. Luke's standard by year's end.
Dr. Shea's earlier work on St. Luke's Project Zero and Surge to Zero infection reduction efforts gave him a taste of just how complicated it is to effect change. He and others who are innovating within St. Luke's emphasize communication and the importance of discussing the "why."
"One thing is that increasingly reassuring to me is that physicians get it," he said. "They get that we're not where we want to be.
"It's really easy to engage them, but it has to be a problem that matters."
For improvements to be made and to stick, medical professionals must be invested, he said.
"We go to them and we say, 'Here's a problem we'd like to address. Can you help us?'" Dr. Shea said. "The sense of ownership is absolutely critical."