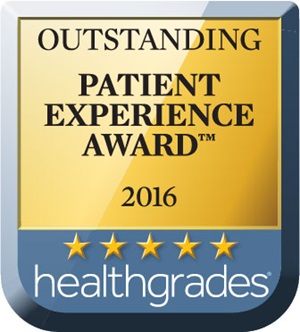 Today is one of those frequent opportunities to be proud of, amazed at and grateful for the inspired people of St. Luke's.
St. Luke's has been recognized, for the third consecutive year, as one of Healthgrades' very few Outstanding Patient Experience recipients for 2016. This acknowledgement of our Boise and Meridian locations and team members is validation from a nationally recognized organization focused on quality and outcomes, and Healthgrades this year also called out our McCall location for first-time Outstanding Patient Experience honors.
St. Luke's is not driven by honors. Far from it. We are focused on our patients and the relationships that enhance our partnership with those for whom we are privileged to care. Patient safety, the continuous improvement of care and an outstanding experience of our services and our team members, these are the vital factors that we keep our eye on.
But we know that when we commit steadily to those factors, we rise. We lift care for our region, we lift care in the country, we lift care for our own families and our friends and neighbors. And we believe organizations like Healthgrades and the many others that have noticed what we are doing here in our communities are just as committed to shifting the conversation and the status quo when it comes to health care.
Today's recognition by Healthgrades, for us, is an affirmation that we are doing the right things for the people of our region. St. Luke's Health System is proud to be locally governed, by neighbors and friends who have our region in mind and at heart, and well positioned for what already is changing about health care across the land and under our feet.
Thanks to St. Luke's patients, who make us better every day. Thanks to their families, our friends, the community that partners with us, the great St. Luke's team. Together we are strengthening the healthcare safety net for the people of our region, and I am so glad to be part of this nationally recognized, locally grown, community treasure.
For more information, please read the official press release.