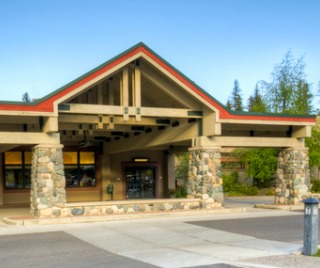 St. Luke's McCall is embarking on a small construction project that will bring big changes to care.
Work began this month to prepare for the installation of a new onsite magnetic resonance imaging (MRI) unit this fall.
While McCall patients have had access to mobile MRI services since 1998, the new equipment will be owned and operated locally and housed in a building permanently attached to the hospital. This will improve patient comfort and experience and enable more patients to receive needed diagnostic imaging studies close to home.
"The new MRI is going to improve the care we provide to patients," said Dr. Adam Weller, St. Luke's McCall radiologist. "Not only will the technology be better, we will be able to do more advance diagnostic tests, and the comfort of the patient is enhanced."
"Contracting with Mobile MRI was the best choice in the past," said Sean McCallister, St. Luke's McCall administrator. "However, as demand and need for health care services increases, we must ensure the right diagnostic testing services are available to community members at the right time."
A new MRI is a timely and strategic investment, because demand for MRI testing has steadily increased over time. This is due in large part to the expansion of surgical services offerings at St. Luke's McCall, with the addition of orthopedic surgeon Dr. Greg Irvine in 2011 and general surgeon Dr. Amy Ocmand in 2014.
"Upgrading our imaging capability will enable us to better support our medical providers, and ultimately, better serve patients," McCallister said. "We currently refer approximately 20 percent of patients requiring an MRI to Boise due to limitations of advanced testing and space with the mobile unit."
Once installed, the new MRI equipment will be available five days a week during regular business hours – doubling the availability of MRI tests for patients from 10 to 20 days per month and increasing convenience for patients to schedule exams.
MRI is a powerful imaging tool. For Dr. Irvine, it is critical for diagnosing and developing a treatment plan. It is used more frequently than other tests to check for bone and joint problems, as well as diagnose issues with cartilage, torn ligaments and tendons.
Not only does MRI testing benefit patients with orthopedic issues, it is also used to examine issues in the head and brain, chest, abdomen and pelvis, and spine to identify problems such as tumors, bleeding, injury, blood vessel diseases or infection.
The new MRI is funded and owned by the McCall Memorial Hospital District. St. Luke's McCall submitted a request to the Hospital District Board to purchase the MRI and cover a portion of construction of the new building to house it. Board members unanimously approved the request during their June meeting.
St. Luke's McCall is also replacing its existing computed tomography equipment, more commonly known as a CT or CAT scan, which was originally purchased in 2005. CT uses X-rays to create detailed pictures of structures inside the body and is used to study any body organ, such as the liver, pancreas, intestines, kidneys, adrenal glands, lungs and heart. It also analyzes blood vessels, bones and the spinal cord.
St. Luke's is paying for the CT in full, as well as covering the approximate $400,000 difference between the district's $1.6 million expenditure and the $2 million total cost for the MRI project.
The new building to house the MRI will be attached to the existing hospital facility and located where the mobile MRI is currently situated on the southwest side of the hospital. The mobile MRI trailer has been relocated further west of the facility to provide room for construction crews to work.
Site preparation started in June and construction will continue through the summer. The new MRI and CT are expected to be operational in October.