St. Luke's Team Travels to Honduras for Medical Mission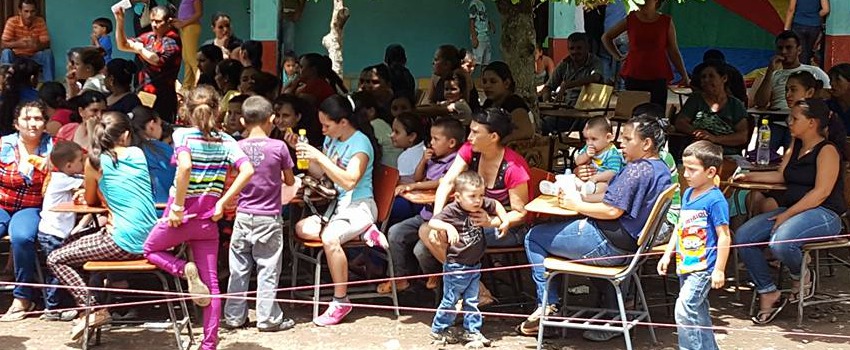 By Chereen Langrill, News and Community
Editor's Note: Physicians and employees from St. Luke's Health System often donate their valuable time to serve people in communities near and far. In early June a team from St. Luke's traveled to Honduras in early June, including Maslyn and Davis Pessner, granddaughters of St. Luke's Heart Executive Medical Director Dr. Marshall Priest. The girls agreed to serve as special correspondents throughout the trip, and this is their report:
June 5, from Maslyn Pessner:
It was an amazing first day in Honduras!
The group arrived Saturday evening, and the first clinic was Sunday morning.
First-time attendees, who make up the majority of the group, were very excited. This included cardiologist Dr. David Hinchman, who stated that he was especially looking forward to sharing the experience with his three children, Colin, Hallie, and Hayden.
"It will be a good perspective on life outside of the U.S. for them," said Dr. Hinchman.
There was also some hesitancy amongst the team. We had been warned that first clinics can be hectic. Fortunately, that was not our experience at all.
The group traveled to El Diviso, a small town outside of Trinidad in Santa Barbara, and set up a clinic in the local elementary school. We used the classrooms to see patients and set up a pharmacy while the kids played outside in the school yard.
A medical mission group had not been to this town for almost a year, and many of the patients had not received care since then. We saw a total of around 250 patients, and the majority wanted treatment for pain in their back, head, or stomach. Eye glasses were also in high demand for many older patients with vision problems.
Group leader and coordinator Shannon Vaughn, St. Luke's Clinic nurse practitioner, was all smiles at the end of the day. She said it was an absolutely great day, especially for a first clinic.
We are all excited for the days to come!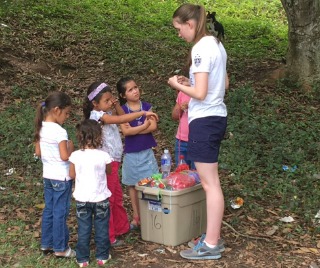 June 6, from Maslyn Pessner:
It was a great second day in Honduras!
Today, we visited the town of Corozal. Some of the group decided to walk part of the way there from the hotel; Dr. Robert Duerr (St. Luke's interventional cardiologist) and Dr. Priest even chose to walk the entire way there. Once there, we set up the clinic in the local school.
One important aspect of a clinic is triage. Triage is the process of approaching patients waiting in line to see the doctor and filling out a piece of paper that includes name and age, whether or not they're pregnant, why they need to see the doctor, and the date and name of the town. Next, other team members measure and record blood pressure.
Interestingly, the most difficult part of this process is peoples' names because often they are hard to understand through thick accents and can be hard to spell. While some patients could show you how to spell it or provided a form of identification, others didn't know how to write their names.
Due to the size of the town, many patients had the same last names. In Honduras, children take their father's last name and their mother's last name. When women marry, they drop their mother's last name and take their husband's. The vast majority of people in this town had the last names Paz and Fernandez.
While triage can be difficult, it is also a great opportunity to interact with the patients on a personal level. Patients often open up about their family and tell jokes.
One team member who worked triage today, Colin Hinchman, son of St. Luke's cardiologist Dr. David Hinchman, said his triage work provided a good learning opportunity.
"It was a great opportunity to work on my Spanish and I think through the practice I learned a lot."
Dr. Duerr's son, Conrad, enjoyed the experience because of the patient interaction.
"Triage is the most fun because you get to talk to, and connect with the patients," he said.
As triage is patients' first contact with the team, it is certainly very important both for forming that personal connection, and for ensuring people get the best care possible.
Today, we saw around 600 people and we are all very excited for tomorrow!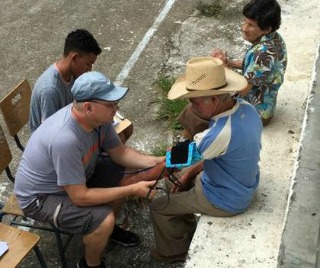 June 7, from Davis Pessner
It was another amazing day here in Honduras!
Today, we chose to focus on the doctors and their role on the trip so that you all have some insight on what it is like to work as a provider on the trip.
Almost all of the adults on the trip work in medicine in some capacity. Those providing care for adults and some children today were Dr. Marshall Priest, Dr. Robert Duerr, Dr. Gordon Mack, and dermatology PA Laura Allen.
I (Davis) had the opportunity to sit in on Dr. Duerr's station and watch him care for patients as well as help retrieve medication from the pharmacy for those patients. Dr. Duerr explained to me the basic agenda he takes patients through, which he called a "history and physical." He explained that in order to be more efficient, he conducts an abbreviated version of this agenda which involves ascertaining the patient's chief complaint, investigating that complaint in more detail, a review of systems (checking that nothing else is wrong), and finally an assessment is made and medicine (if needed) is given.
Dr. Duerr noted that many patients were suffering from more general ailments such as headaches or back pain, which can be remedied with some ibuprofen.
"Not all medicine is about curing horrible diseases" said Dr. Duerr.
Often times this simple medicine can make all the difference.
All of the providers have been working hard all week and today they treated a total of 500 patients.
Today, they helped one especially memorable woman named Maria Perez. She was found by a previous mission group three years ago and today we went back to check up on her. Three years ago, she was found totally destitute and the mission group washed her and gave her supplies and a bed. Today, unfortunately, she was again found to be destitute. When we traveled to her home today, she was caked in dirt and weighed just 50 pounds. Volunteers Stephanie Bishop, Tess McLellan, and myself helped her take a bath and change into some clean clothes. She was absolutely delighted to swap out her shirt for a new St. Luke's T-shirt and was incredibly grateful for all of the medicine, clothes, and food we brought her.
"She's one of those patients who makes the whole trip worth it," said St. Luke's Heart Administrator David Bishop.


June 8, from Davis and Maslyn Pessner
Today, we visited a town called El Tumbo.
We set up the clinic in the local school which was situated in a field overlooking a valley in the mountains. We all appreciated the field because it provided a large play space for the kids.
We only spent a half day in El Tumbo before we traveled to the city of Santa Barbara to visit the local hospital. We were given a tour of the emergency room, the ward for women and babies, as well as a glimpse into the room for children. While we all entered with low expectations, the hospital was a pleasant surprise.
"The hospital was actually quite clean, given our past experiences," remarked Dr. Gordon Mack, St. Luke's pediatric cardiologist.
We noted that there were no private rooms, and in the women's ward there were about 20 beds in an open area. However, the equipment appeared pretty standard to the doctors in the group.
"It was similar to smaller hospitals I've seen in the U.S.," stated Sharon Chow, director of pediatrics at St. Luke's.
The doctors were especially impressed with the ward for premature babies. The ward had very nice equipment that the doctors noted was the same as in the U.S. The only big problem regarding the hospital seemed to be the lack of staffing. The ICU (emergency care unit) has such a staffing problem that they often need to send patients on the two hour bus ride to a larger hospital in San Pedro Sula. Still, the hospital and its equipment were very impressive.
Being able to look at a local hospital really showed us the difference proper medical equipment can make.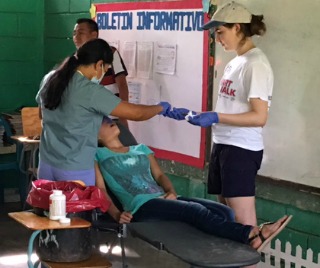 June 9, from Maslyn Pessner
For our 5th clinic, we visited the town of La Zona and set up the clinic in the local school.
Along with the providers who see patients for things such as headaches, blood pressure issues, and asthma, we have an amazing dentist and eye doctor on board as well.
Today, I (Maslyn) was able to spend the afternoon with the dentist, Martha, who is from Honduras and doesn't speak any English. She is an outstanding dentist and is known for her speed. Marie Penavs, a registered nurse who works with infectious disease at the Boise VA Medical Center, estimated that she sees over 100 patients a day. When I asked Martha how many people she saw in a day, she didn't have a clue. She said she is too busy pulling teeth to count.
We don't have the time or supplies to clean people's teeth, so every patient has a tooth pulled. I asked Marie if she ever heard Martha tell someone they didn't need teeth pulled, and she had never. Some of the people that come in have barely any teeth left in their mouth and others' are filled with cavities. Martha told me she has pulled up to nine teeth in one person this week and up to sixteen teeth in one person in her career as a dentist.
Martha begins by giving the patient a numbing liquid called a vasoconstrictor, which shrinks the blood vessels, reducing pain and minimizing bleeding. Then, the patient takes a seat for a few minutes while Martha does the same thing to the next person in line. When the second person has been numbed, the person waiting goes back to the chair to have their teeth pulled. An assistant stands next to Martha during this process to hand Martha gauze and tools. I was lucky enough to be this person on a couple occasions and I was truly awestruck.
The majority of patients are adults, however we did see two little kids while I was helping. Both kids cried quite a bit and had to be held down. Most of the tears, however, were from fear and not from pain. Martha ensures that the children feel a minimal amount of pain, and afterwards they get a prize and a brand new toothbrush.
Spending the afternoon with the dentist really heightened my awareness of the severity of the dental hygiene problem in Honduras. Any access to toothbrushes and dental care goes a long way.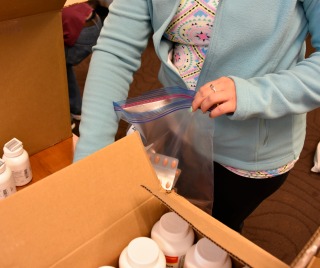 June 10, from Maslyn Pessner
Starting on Tuesday, the team was very lucky to have an eye doctor named Daniel work with us.
Daniel is from Honduras and has been a practicing eye doctor since 2007. His expertise was really invaluable to the team as few others had any experience working in ophthalmology.
Sue Hicks, who works for the VA and helped Daniel all week, was especially quick to praise him, stating that he was absolutely fabulous with all the patients and in moving things along in an efficient manner.
He was very busy all week, seeing a total of 456 patients!
The team had a supply of glasses both for people who could not see things from a distance or glasses for those who could not see things close to them, such as words when reading. Going in, the team expected the distance glasses to be in high demand, but as it turned out the reading glasses were much more popular.
Overall, the team was excited to welcome Daniel and be able to provide all those glasses to those in need!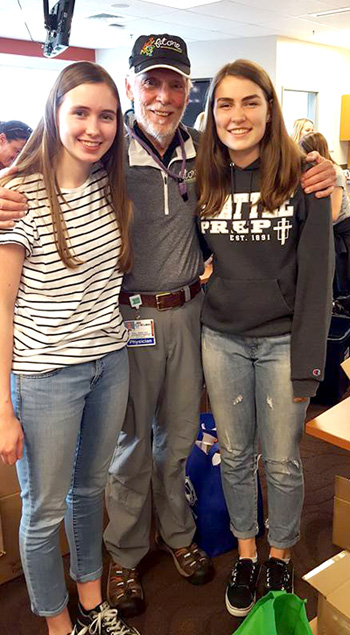 Postscript, from Maslyn and Davis Pessner
Overall, the trip was a huge success.
We saw over 1,000 patients throughout the week and helped with a wide range of issues.
Davis and I really appreciated the opportunity to be able to be a part of the team. Every member had something to contribute and was essential in making clinics function. Writing about our experiences also really encouraged us to try new things at the clinics and see how it all works.
I am extremely grateful to have been able to spend an afternoon with the dentist, something I probably wouldn't have done if it wasn't for this blog.
Davis also learned a ton by exploring her interests in medicine and shadowing the providers.
It was amazing to be able to share all of these experiences with our grandfather, Dr. Priest. We both really came to appreciate the life we live and all of our privileges as Americans. I know we were both stricken by the several 15-19 year olds that we saw who had one or more kids. It really changes your perspective when you meet someone your own age whose life is so drastically different from your own; we both feel very lucky to be able to be kids rather than have to take care of our own.
The trip really was an eye-opening experience. Even if you have past travel experience in Latin American countries, there is nothing quite like being able to personally interact with people and know you are making a difference in their lives.
We highly recommend the trip to anyone looking for an amazing, enriching experience, even if you have no interest or experience working in medicine.