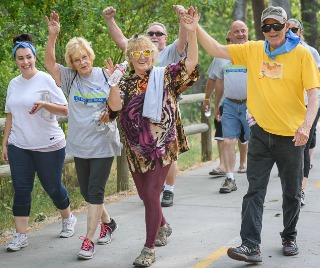 On June 9, nearly 200 patients and their invited guests gathered at Municipal Park to participate in St. Luke's Fit for the Road Reunion. The free event is an invitation-only walk along the Boise River and healthy picnic for patients who have undergone or may be continuing treatment through St. Luke's Heart, Joint Replacement, St. Luke's Bariatric Clinics and/or St. Luke's MSTI.
"Stories were shared, friends were made, and goals were set," said Heather Hill, FitOne director. "This event provides a unique opportunity to emphasize how physical activity plays such an important role in any treatment or recovery plan, and the energy and enthusiasm that night was a testament to the value of this type of support and camaraderie."
Registration is now open for the FitOne Family 5K Run Walk & Stroll, 10K and Half Marathon, held on Saturday, Sept. 24 in Boise. Proceeds from FitOne benefit St. Luke's Children's. This family-friendly event is also easy on the budget; kids 12 and under are free with a paid adult. Visit FitOne at FitOneBoise.org to learn more or to register online.
Other opportunities to get involved in FitOne:
July 9 at 9 a.m. – Fitness & Fun with FitOne Kids at Eagle Fun Days – This free event immediately follows the Eagle Fun Day Run. Kids ages 10 and under can join St. Luke's/FitOne in fun activities to earn cool prizes, all while learning about health and fitness. Parents are welcome, too.
July 16 at 1:15 p.m. – Fitness & Fun with FitOne Kids at the Twilight Criterium during the Ride with Kristin Armstrong.
Volunteer registration is now open for FitOne in September. Volunteer shifts are during event week (September 21-24, 2016).