To architect Scott Larkin, St. Luke's Nampa is more than just a new hospital.
He knows from personal experience that the building will become a temporary home for patients and providers.
A 10-year member of the Navy Nurse Corps, Larkin worked in four hospitals before starting his architectural career.
"Having practiced as a nurse, I bring some insight that this is not just a design," he said. "It is a living space."
Larkin works for Salt Lake City-based Arch Nexus, a national firm specializing in the design of healthcare facilities. Larkin's medical background gave him insight into the health needs of the community before starting on the design phase.
"A lot of what I do is work with user groups and interpret their operations and needs into a facility that doesn't just meet the needs but encourages good flow."
As a former nurse, for example, he is sensitive to the challenges of designing a nursing station.
"You have to be able to see the patient," he said. "But we know that there are privacy issues for patients while we are generating the view for the providers."
Upon completion in October 2017, the hospital will include a newborn intensive care unit, children's services with outpatient subspecialists, additional heart services, an intensive care unit, obstetrics and women's services, seven family suites, a cath lab, and interventional radiology.
The new three-story structure is an expansion of the St. Luke's medical plaza that opened in 2012 with a full-service emergency department, laboratory services, diagnostic and imaging services, medical office space and outpatient services.
Creating a welcoming experience for patients has been a priority for Larkin and architects at Nampa-based Houston Bugatsch. The hospital has been designed to help patients navigate easily, without a lot of confusing hallways and signs, Larkin said.
Patient rooms are light and airy, with large windows, and classrooms will provide space for community education. A distinctive curve in the design serves several purposes.
"When you approach the building, you have clear access to the front door," Larkin said. "We tried to make it clear that there is a central entrance point."
A two-story lobby leads to cardiology, imaging and emergency care. A surgery waiting and registration area are directly upstairs.
From the front door, there is a public hall along the front of the building that Larkin described as "a single line, no confusing corridors, everything is north and south right down the hall.
"The curve on the entrance allows us to continuously move patients from the south to the north. Internally, the circulation works because we go from the emergency department and radiology in the south end; the curve allows us to make the turn without losing the continuity for patients."

The curve also serves to direct patients and visitors to the main entrance.
"In the exterior design, the intent was to create that instantly noticeable red brick aesthetic, but at the same time to show a unique element – the curve," Larkin said. "It is pragmatic, aesthetic and helpful for wayfinding."
Site Administrator Ed Castledine said the iconic red brick façade is indicative of the quality of a St. Luke's facility.
"Throughout the health system, you'll see pride in the buildings, engineering, architecture and equipment," he said. "Our goal is excellence in design and construction. We firmly believe that the commitment to quality starts with the buildings that will stand the test of time."
Castledine is leading a 40-member, multi-disciplinary team through the logistics of opening the $128.8 million hospital.
Several key leaders have been hired to help implement the complex operational plan. New Chief Nursing Officer Misty Thomas comes to St. Luke's from Texas, where she was vice president of patient care services and chief nursing officer for CHI St. Luke's Health The Vintage Hospital.
Dr. Michaela Schulte, a hospitalist and consultant for infectious disease who worked for APOGEE Medical Group at West Valley Medical Center and at Mercy Medical Center, is working at St. Luke's Meridian while focusing on the administration of the new hospital.
A volunteer community council created in 2013 is helping to guide decisions about the hospital and community health initiatives in the area. Canyon County Community Council members provide guidance, serve as ambassadors to the community and lead the philanthropic effort to raise $2.6 million in support of the project.
"St. Luke's is community owned, a community asset," Castledine said. "Local boards drive our organization."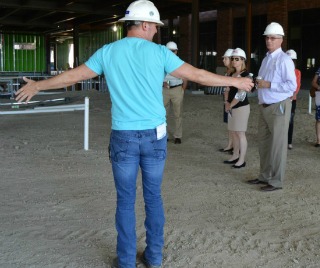 In July, about 12 council members and guests toured the new hospital with Castledine, St. Luke's Construction Manager Tim Austin and Bruce Jensen, planning and development manager.
In hard hats, the group walked through the three floors, viewed the bed "towers," discussed the chapel footprint and learned about construction sequencing.
As the tour ended, David Alexander said the new building clearly demonstrates St. Luke's commitment to high-quality health care.
"I think it's progress that is long overdue for Nampa and Canyon County, and will meet a growing need," said Alexander, a former president of Northwest Nazarene University.