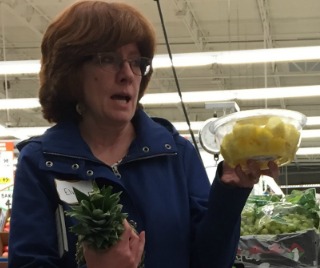 Elva McNurlin likes to eat dessert. But, as a dietitian, she also knows it's important to eat healthy.
"I like trying new foods. I like making foods healthier. I like experimenting to see how I can make things better for myself and my family," Elva McNurlin said.
In her spare time, McNurlin volunteers with the Cooking Matters program offered through the Idaho Foodbank. Volunteering her time outside of St. Luke's, specifically for a program that focuses on nutrition, is a way for her to help others enjoy learning how to cook.
"A lot of people haven't had the example at home, or maybe they haven't had the opportunity to learn how to cook," McNurlin said. "So, they go the easy route of something that is already prepared. It's great to see people learn how to cook healthy."
This year, McNurlin has volunteered 66 hours to the Cooking Matters program, including serving as: chef instructor for the Twin Falls' Boys and Girls Club class for teens, nutrition instructor for Kimberly's Ageless Senior Center adult class, and nutrition instructor for Buhl's Boys and Girls Club parent class.
Cooking Matters is a national program that partners with community organizations to offer six-week cooking-based classes for all ages. Emphasizing hands-on learning, Cooking Matters teaches food preparation and food budgeting skills to help people make lasting changes to their eating habits.
Founded in 1993, Cooking Matters has served more than 100,000 families across the country. Each course is team-taught by a community volunteer chef and nutrition educator and covers meal preparation, grocery shopping, food budgeting and nutrition. Adult participants take home a bag of groceries at the end of each class. Cooking Matters also offers store tours where participants learn how to shop, plan and budget for healthy and affordable meals.
McNurlin isn't the only St. Luke's staff member offering support to the program. Other St. Luke's Magic Valley staff include Keisha Angell, Heather Shaw, Shantel Rodriguez, Jason Jones, Sarah Renaldi, Evevanne Hottel, Mark Owsley, and Kyli Gough.
To learn more about Cooking Matters, visit cookingmatters.org. For more information about Cooking Matters in your community, contact Makenzie Ellsworth, Nutrition Education Specialist at The Idaho Foodbank at [email protected] or (208) 602-9198.