St. Luke's Scrap Metal Turns to Gold for Idaho Health Sciences Students
By Holly Miller, News and Community
What does a company like Pacific Steel & Recycling—complete with shredders, crushers, and gigantic magnets—have in common with St. Luke's, a not-for-profit healthcare and wellness services provider? According to Jeff Hull, St. Luke's director of architecture and construction, the commonality is a scrap-metal recycling partnership that helps Idaho's youth to succeed in everything from health sciences to sports to the performing arts.
Beyond the obvious positive environmental impact of recycling, the partnership is a form of modern-day alchemy that transforms steel parts, copper wiring, and other construction cast-offs into student scholarships.
The scholarships are the brainchild of Bill "Action" Jackson, a 36-year Boise resident and former Morrison-Knudsen employee with a construction background whose energy level is matched only by his passion for bringing businesses and individuals together for the benefit of Idaho's young people. The nickname was bestowed upon him by fellow soldiers during his military service in Vietnam. "I had a reputation for getting things done, for helping people out," said Jackson. And for good reason, the name stuck.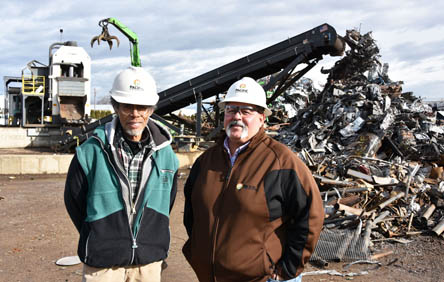 Following the death of his beloved son, John, in a mountain climbing accident, Jackson was determined to find a meaningful way to honor his son's enthusiasm and enterprise. And what better way than helping students on the path to academic achievement and future success? Thus, the John William Jackson Fund (JWJF) was established in 2000 and with it the Idaho Youth Education Recycling Partnership, affectionately known as iYERP.
With his own enthusiasm, coupled with a very persuasive personality, Jackson approached Pacific Steel & Recycling with his ideas about funding scholarships through scrap-metal recycling, and they were quickly on board.
"Our company is committed to the well-being of our communities," said Michael Cataldo, Pacific Steel & Recycling regional manager. "We couldn't be more pleased to participate."
And participate they do. Pacific Steel & Recycling not only provides the scrap-metal recycling bins to area construction sites, they also pick up the filled bins, transport them to their scrap yards in Boise and Nampa, and keep an accounting of each recycling partner's contributions. They also reserve a corner of their Boise scrap yard for salvaged items such as ice machines and steel desks helps iYERP promote re-use. And all of this is done at no cost to the John William Jackson Fund.


Cataldo reports that Pacific Steel & Recycling makes more than $1 million in equipment available to iYERP each year, and in years when business is good, they provide a sizeable cash donation as well. The recycling program "takes a lot of time and resources, but we see the return that the kids and the community get from this program and that makes it worthwhile."
Once he had a commitment from Pacific Steel & Recycling, it was time for Jackson to visit construction sites and approach them to participate. One of his stops was St. Luke's, which at the time was remodeling buildings on Federal Way in Boise to house laboratory and laundry facilities.
"I do have connections," said Jackson. "My wife, Jackie, has been volunteering at St. Luke's for many years, and [St. Luke's Health System Chief Financial Officer] Jeff Taylor and [former St. Luke's Health System Board Member] Alice Hennessey are both considered honorary members of the John William Jackson Fund."
Jackson noted that Hennessey is known as the "mother of the fund," because of the instrumental role she played in setting up the John William Jackson Fund endowment through the Idaho Community Foundation.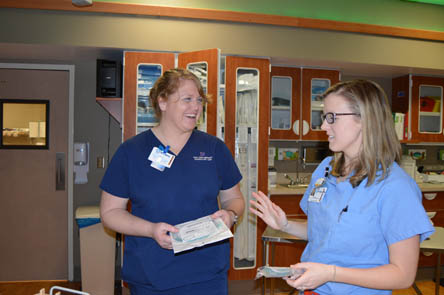 Boise State respiratory therapy student and JWJF scholarship recipient Lucy McLaughlin (left) learns about St. Luke's Boise Cath Lab from cardiac procedures tech Megan Mandich.
"It's not an easy ask," said Hull, "because scrap-metal recycling and salvage can translate into big bucks for construction companies and developers." Nonetheless, Hull embraced the prospect of participating and took it to St. Luke's executive leaders for consideration. "Their answer was a resounding 'Yes!' because supporting our community's youth goes hand-in-hand with St. Luke's mission to improve health."
Students themselves are proving that point. iYERP provides dozens of scholarships for everything from engineering to chamber music, and several are dedicated to furthering the health sciences. Lucy McLaughlin, who will graduate from the respiratory therapy program at Boise State University this spring, was able to do so thanks to a JWJF Respiratory Therapy Scholarship in Memory of Larry Kissler, a local philanthropist and business leader. Along with classroom studies, clinical experience, and homework, McLaughlin had to work full-time last year. Because of the additional demands that working placed on her time, McLaughlin thought she wouldn't be able to graduate until August. Thanks to the $1,000 JWJF scholarship, she was able to cut her work hours and will not have to take summer courses. Instead, she'll be prepared to care for patients, something she's looking forward to doing. "I didn't know how much I'd like the respiratory therapy field," said McLaughlin, "but it's absolutely awesome. I couldn't be happier."
Idaho State University's Accelerated Nursing Program students Jordan Turner and Johannes Bartley each received a $2,000 JWJF scholarship and have also experienced the peace of mind that comes from a little extra financial security.
Applying for the scholarship affirmed Turner's decision to go into nursing—a field that often experiences shortages—because while writing down his career goals, he was able to picture himself doing exactly what he aspired to do: help people. "My focus is on community health and education, especially in rural areas and third-world nations. I want to teach people how to prevent illness and best care for themselves, because health promotion changes everything."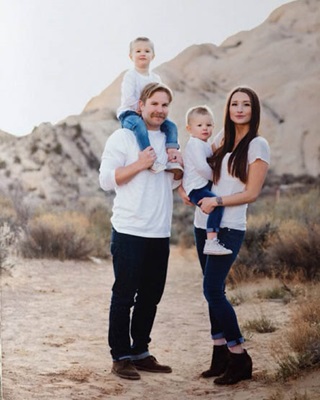 Like Turner, Johannes Bartley received his undergraduate degree at Brigham Young University-Idaho, and then entered the fast-paced and challenging world of an accelerated nursing program.
Not only is Bartley immersed in the nursing program, he worked part-time as an anesthesia tech in the Operating Room at St. Luke's Boise hospital and is now commuting from Boise to Salt Lake City every weekend to work at the University of Utah Medical Center. Even more important to him than those responsibilities are the two young boys he and his wife are raising.
As for the money granted to him from JWJF's Nursing Scholarship in Memory of Dr. Brenda Williams, a Boise physician who died of breast cancer in 2009, "It saved me," he said. "The scholarship lifted a huge weight off my chest. I was struggling to make ends meet, and it allowed me to stop thinking that I would have to drop out and work full-time."
Instead, Bartley has time to be a great dad, and he remains in the nursing program. He has plans to continue his studies for several more years in order to realize his dream of becoming a certified registered nurse anesthetist (CRNA). After graduating from ISU, he'll begin studies at the University of Utah. "Everyone at St. Luke's has been fantastic," he said. "You never know, maybe someday I'll get to come back!"
Dr. Susan Tavernier, director of the ISU Accelerated Nursing program, said the JWJF scholarships are significant because post-baccalaureate students do not qualify for federal financial aid. "Most of our students have incredible demands on their time, taking 17 to 19 credits per semester, and many have families. The academic pace of our program makes it very difficult for them to work."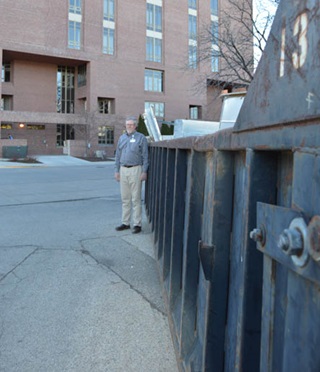 Jeff Hull and his construction team take pride in filling St. Luke's scrap-metal recycling bin to benefit Idaho students.
Hull is proud to be part of the project and its success. In its first year, the Fund disbursed $2,750 in scholarships; in 2015, more than $130,000 was awarded to Idaho schools and non-profits. In the last 5 years, a total of $580,000 was granted, with 80 percent of those funds generated by scrap metal recycling.
"Not only did St. Luke's agree to participate, but every year we're among the top partners that help fund these sought-after scholarships."
Hull believes so strongly in the purpose of the John William Jackson Fund and iYERP that he now serves as an officer for the organization. "Action's a difficult guy to say no to," he said with a smile, "and on behalf of Idaho's kids, I'm glad St. Luke's said yes."
Action Jackson never stops looking for new partners and additional ways to support the John William Jackson Fund. His commitment to Idaho's youth runs so deep, he saves costs by personally patrolling the recycling sites and separating the scrap metal inside the bins.
Hull laughingly admitted that he occasionally receives calls to report that someone is dumpster-diving on St. Luke's property. "So I go out to the recycling bin and investigate," he said, "and it's always Action, being true to his name."
---
Want to take action yourself? Learn more:

For information about becoming a John William Jackson Fund officer, contact Bill "Action" Jackson at
[email protected]
John William Jackson Fund: http://www.johnwilliamjacksonfund.org/
Idaho Community Foundation: http://www.idcomfdn.org/Homepage