A new chapel at St. Luke's Meridian will offer a place for comfort, quiet reflection and spiritual care for patients, families and staff.
The chapel officially opened Friday, Jan. 22, and is located on the east side of St. Luke's Meridian, just south of the hospital's main entrance. A small dedication ceremony held Jan. 21 welcomed the new chapel and thanked the dedicated people who helped make it a reality. Throughout the past four years, money for the chapel's construction was raised by St. Luke's staff, community members and philanthropic organizations.
All St. Luke's locations have chapels to address the spiritual needs of patients, families, and staff, but in 2010 Meridian's chapel space was reallocated for patient care when the facility faced challenges finding enough room to accommodate ever-growing patient needs.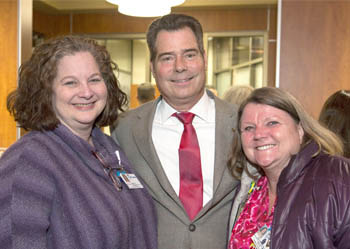 Although spiritual care continued without the chapel, a dedicated space was still lacking. In 2012 a group of staff members organized a committee and began a grassroots fundraising campaign to construct a new chapel.
In addition to support from employees and community members, the Kissler Family Foundation, through the generosity of Norco employees, also provided funding for the project.
"Norco and the Kissler Family Foundation, whose focus is to provide for healthcare, education and the betterment of mankind, do a wonderful job of giving back to their communities," said Doug Oppenheimer, Chairman of the Board of Directors for St. Luke's Health Foundation.
The Kissler Family Foundation has supported hundreds of projects since its start in 1998. Prior to that foundation's official beginning, 22 years ago this month, the Kissler Family Chapel in Boise was dedicated.