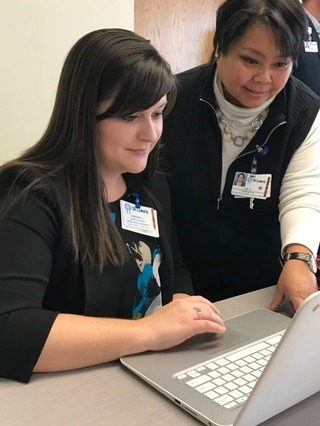 At 14,000 employees and growing, St. Luke's Health System is Idaho's largest employer. Finding 2,400 new workers to fill open positions every year is a challenge. That's one reason St. Luke's partnered with Boise State University this fall to launch a new "Work University" internship program.
The three-credit class through the College of Innovation and Design immerses students in the St. Luke's work environment for ten to 15 hours each week. In exchange, St. Luke's gives each student a mentor. The co-op style course is designed to dissolve the barrier between classroom and workplace, enhancing the student's overall comprehension through real-world work experience.
St. Luke's Senior Director of Learning and Development, LaVay Lauter, partnered with BSU's Dean Gordon Jones to launch the program. She was inspired by her previous experience working with a program at the University of Kentucky and University of Louisville. Upon seeing BSU's unique and growing environment, Lauter says she saw the potential for the program's concepts to thrive here in Boise, as well.
"Boise State University is able to offer our community and its students an innovative way to learn and develop," said Lauter. "This is cutting-edge for the millennial generation. St. Luke's is given a unique opportunity to build its candidate pool by test driving future talent."
As Lauter implied, this one of a kind experience gives students several non-clinical departments within the hospital that can aid in employability. Some of these departments include Human Resources (HR), Benefits, Recruiting and Administration. Boise State as a partnered university with St. Luke's have produced specific learning outcomes that include obtaining skills in Professional Administration, Communication, Office Management, HR, and Personnel Management, according to BSU's College of Innovation and Design website.
"This course provides the skills and confidence necessary for introductory success in the healthcare or related industries" says Gordon Jones, Dean of The College of Innovation and Design. "Boise State University is thrilled to be able to partner with St. Luke's to launch this co-op program in the Treasure Valley," said Dean Jones.
The three credit course will be instructed by Jay George, Ph.D., and is intended for students of all majors, especially those interested in the healthcare industry. This will hopefully broaden the scope of St. Luke's employees, giving students the necessary tools to be prepared when entering their career.
Ultimately, the Work U vision is to expand to hundreds of students and dozens of potential employers beyond just St. Luke's Health System. So far nine students have taken part in Work U and another 20 are expected to join next semester. "It is exciting to have the best and brightest united with a leading hospital system," exclaims Jones. Check out
BSU's College of Innovation & Design online
to learn more.