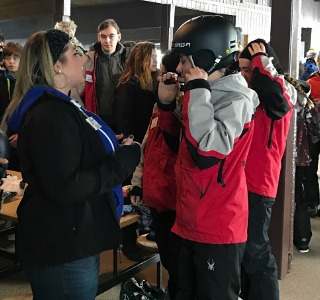 St. Luke's physicians and staff members collaborate with ski partners across the region, and each year brings additional value to users of the slopes.
Bogus Basin and St. Luke's Sports Medicine have teamed up this ski season to encourage more people to wear helmets to prevent and reduce the potential for brain injury.
To that end, approximately three-dozen Bogus Basin "chair riders," teen employees who assist beginners in ski school by ensuring that no young child rides the lift alone, have received helmets.
The effort was supported through the Kohl's Cares children's health sponsorship program, through which that company helps to fund St. Luke's Children's programs. The helmet manufacturer provided a discount and Greenwood's Ski Haus agreed to facilitate the order and host a helmet pickup and fitting.
Research shows helmets can significantly reduce the severity of head and facial injuries. Data gathered at Bogus Basin from 2011 to 2016 indicates that almost half of all incidents involve children ages 10-18, and that 12 percent of those youths might incur concussions. Data also shows that more than 33 percent of all children in that age range do not wear helmets.
St. Luke's created attention-grabbing "Love Your Brain!" helmet stickers and posters for the lodges to amplify the message, and chair riders have been armed with talking points to share with their lift companions as they make their way to the top.
Partners are aware of the effort it takes to change a sport culture in which the use of helmets is not necessarily perceived as "cool," and note a similar shift in recent years in the biking community, where helmets are now routine equipment.
A similar effort is ongoing in the McCall area, where St. Luke's McCall is collaborating with the Little Ski Hill's After School Program. Historically, participants have been required to wear helmets, but many teen instructors have not worn the protective equipment.
Dr. Julie Welty, a family medicine physician with St. Luke's Clinic – Payette Lakes Family Medicine, was instrumental in organizing medical staff support. St. Luke's McCall also lent support and is partnering with local ski shop Home Town Sports to obtain discounted helmets.
Collaboration between ski operators and businesses and St. Luke's has been a fruitful relationship, supporting community health and pointing out exciting opportunities for research and further fulfillment of the organizations' missions.
In the Wood River Valley, St. Luke's supports the Sun Valley Ski Education Foundation, conducts concussion baseline testing and physicals and collaborates with the ski patrol. Emergency room physicians provide medical education to patrol members at the beginning of ski season and perform periodic case reviews, and the emergency department staff monitors ski patrol radio for timely response as needed. Area emergency medical services and St. Luke's team members also are highly involved with the ski community.
St. Luke's previously had developed an app used by patrol members at multiple ski areas to record and report injuries. The software has been in use for several years at Bogus Basin, and patrollers last year were trained in upgraded software at Tamarack Resort near Donnelly and Brundage Mountain, the Little Ski Hill and Brundage Snow Cat Adventures, all in McCall. Based on patterns that have turned up, Bogus Basin has mandated helmet use by employees.
St. Luke's partners with the ski operators in multiple additional ways as well, on everything from off-season events and summer camps for children and families to rescue simulations and sports gatherings.