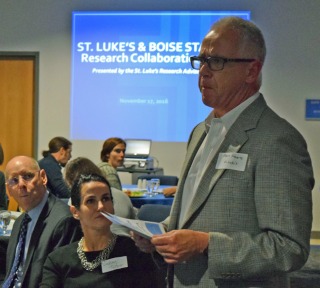 A Nov. 17 gathering of providers and researchers from St. Luke's Health System and Boise State University revealed how collaborations between the two organizations can improve population health, patient quality of life and the value of health care.
"I believe we are at the very beginning of what we can accomplish through our applied research and our partnership with BSU," said presenter Hilary Flint-Wagner, St. Luke's Applied Research manager. "We can take that knowledge from our research and tie it back to our patients to improve their health and the health of our region."
Research not only benefits patients and our communities, it also brings recognition to our organizations, which draws top professionals to both, she said.
More than 60 researchers and providers attended the Research Collaboration Forum Nov. 17 at the Boise State Stueckle Sky Center. The event was sponsored by St. Luke's Research Advisory Council.
Presenters shared their progress in a number of studies, as well as how the principles of their work tightly align with the work of St. Luke's Health Partners and how translational medicine collaboration between Boise State University and St. Luke's might work. Translational medicine is a discipline in biomedical research using a multi-disciplinary, highly collaborative, bench-to-bedside approach to expedite the discovery of new diagnostic tools and treatments.
Presentations included:
Applied Research and Collaboration, by Flint-Wagner.
Analyzing the Effects of Repetitive Exposure to Head Impacts during Diffusion Tensor Imaging, by Leslie Kendrick, chair and associate professor of the Boise State Radiologic Sciences Department, and director of the Diagnostic Radiology Program.
Economic Evaluation of Applied Research Studies, by Zeynep Hansen, a research associate and chair of the Economics Department.
Drug Development for the Prevention of Breast Cancer Metastasis, by Cheryl Jorcyk, director of Clinical and Transitional Research and professor of Biological Sciences.
In a fun, fast, elevator-pitch format, Boise State faculty also introduced 13 other projects and partnerships aimed at solving real-world issues here in Idaho, and the talents and resources available at the university that could support more studies.
They included:
Two-dimensional Materials for Biomolecular Analysis and Tissue Engineering
Fluid Dynamics Applications in the Human Body
Physical Basis of Estrogen Receptor Action
Planned Clinical Trial for Progressive Supranuclear Palsy and TBI Treatment with TauC3 Monoclonal Antibody
Using Implementation Science to Maximize Population-Level Impact on Health Outcomes
Low Magnitude Mechanical Signals as an Anabolic Agent in Ageing and Disease
Exposures to Agrichemicals: Understanding the Effect of Agricultural Production on Workers, Families, and Communities
Smartphone Application for the Diagnosis of Autism Remotely
Exposure to Diesel Exhaust in Underground Mining Operations and Carbon Monoxide Poisonings during the Use of Recreational Watercraft
Biomolecular Science Research by Atomic Force Microscopy
Research within the Human Performance Laboratory at BSU
Find out more:
For information on conducting research at St. Luke's, please contact Dr. Mark Roberts, the St. Luke's Medical Director for Research and Education, at (208) 381-8912 or [email protected]. If you're interested in applied research at St. Luke's, please contact our applied research manager at (208) 381-8934 or by email.
Find stories on St. Luke's Research programs on St. Luke's Online.