Illness inevitably comes with a long list of medical appointments and treatment plans. People with critical neurological disorders such as strokes, spinal cord or brain injuries are familiar with the stress that comes with the road to recovery.
Recreational therapist Christine Walsh recognizes this trend in her day to day work at St. Luke's Rehabilitation Hospital in Boise.
"I work closely with families that are so occupied with getting their loved ones treated and keeping the daily life chores attended to that often times they don't have the energy, time or finances to know there are options available beyond that," Walsh said.
To address this need, Walsh developed an idea that would provide much-needed support for patients and their families.
The Re-Creation Retreat was designed to fulfill the goals of recreational therapy; through healthy challenges and creative opportunities, campers would be encouraged to get back to enjoying and living life to the fullest.
Walsh teamed up with St. Luke's Rehabilitation physical therapist Katie Callanan, and this summer their idea was put to the test.
Walsh and Callanan used personal time and drew from existing and former client bases to hold a trial-run retreat at the YMCA Camp at Horsethief Reservoir. The location offered easily accessible lodging and a variety of activities for campers. From zip lines to archery, water sports to arts and crafts, Horsethief was the perfect setting to launch the inaugural retreat.
For two days and one night, the camp's four participants were encouraged to engage in creative, team-building activities and to try something new in an outdoor, barrier-free and safe environment.
"Christina and Katie seemed to embrace the idea that the essence of creativity works very well. Each activity brought about some creative part of our brains," said camper Kathleen Cornelson-Smith. "Simply put, they wanted the participants to have a new experience that generated positive emotion and cognitive ease."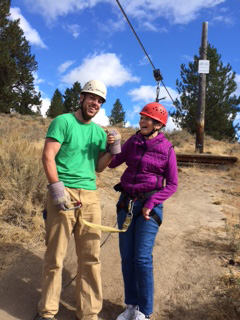 The creativity and new activities Walsh and Callanan were aiming for came to life through Horsethief's zip line. Although a somewhat daunting adventure, with the help of extremely qualified and attentive staff, campers were able to overcome their fears and zip through the air.
"After putting on the hard hat I was ready to run down the ramp in front of me and take off," camper Jeannie Mooney, pictured at left, recalled. "I finally felt myself flying through the trees and screaming with joy. I could also hear my companions cheering me on. It made me feel proud that I had overcome my fears. This was something I had always wanted to do, but deep down didn't think I would have the courage to do. It was truly an awesome experience – one I'll do again and always remember."
The supportive environment was empowering for the participants.
"I loved the companionship of others and learned a great deal as I watched the dedicated caretakers," Cornelson-Smith said. "We laughed and cheered for the accomplishments of others while feeling more confident about our own abilities. This retreat was very supportive of the growth each individual has and will make."
Overall, the retreat provided a weekend of fun and a change of daily routine for participants. Campers left the retreat with lasting friendships and the confidence and skills they needed for an improved quality of life.
"The biggest success was that it happened!" Walsh said. "My hopes are to see the Re-Creation Retreat become a weekend full of amazing emotional, physical and spiritual memories for clients and their caretakers."
Next year, the retreat aims to open its doors to up to 20 campers with the help of additional volunteers and staff, and it will feature more classes such as art, adapted yoga sessions, and peer support sessions. Horsethief will again be the beautiful backdrop for the two-night retreat set to take place in early June.