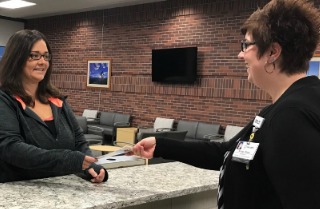 The thought of being one of the first patients at St. Luke's new surgery center in Twin Falls was exciting for Michael Bone.
Bone was the second patient to have a surgery performed at the 20,500-square-foot, state-of-the-art Surgery Center at St. Luke's Magic Valley.
The center helps to address the needs of a community that has experienced a 33 percent increase in outpatient surgical volumes at St. Luke's Magic Valley. The trend is similar to what is happening nationwide.
The new facility officially opened Nov. 24 near the east end of St. Luke's 40-acre Twin Falls property. As of early December, more than 55 patients had completed surgeries at the new location.
"I have had two surgeries in my life," she said. "There is always a fear, just because you're having a surgery, and not necessarily because it's a new establishment."
Bone's bunion surgery was performed by Dr. Randall Wraalstad, St. Luke's Clinic – Podiatry.
"We determined that I needed the surgery and the timing worked out perfectly that I would be among the first to have surgery at the new facility," Bone said. "I work for Dr. Wraalstad and we thought it would be really cool to go through the first surgery together."
The two have worked together for eight years; Bone is the site manager for St. Luke's Clinic – Podiatry. Bone and Dr. Wraalstad joined St. Luke's Health System when the clinic became part of the organization and now have shared another milestone with the opening of the surgery center.
Bone checked in for her surgery at 7 a.m. on Nov. 24 and was recuperating at home by noon.
"I had no problems. It was great," she said. "It was seamless. I wasn't waiting for anyone to find any items. You would not have known that it was the second surgery in this new facility."
Bone praised the convenience and friendliness of the staff.
Even though she is a St. Luke's employee, Bone said her perspective is that of a patient.
"I know that how I was treated is how St. Luke's does it," she said. "I was a patient that day and I was really taken care of and not just Dr. Wraalstad's site manager."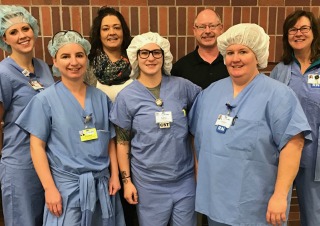 It's all about improving the health of people in our region, said Dr. Russell Mayes, St. Luke's Clinic – Ear, Nose, Throat and Facial Plastic Surgery. Dr. Mayes was instrumental in the opening of the new center.
"Outpatient surgeries are typically for a patient that is healthy and needs services which only require one day in the operating room," Dr. Mayes said. "It's a fairly quick recovery and the patient can go home so they don't require multiple days or an overnight stay in the hospital.
"This surgery center is something that's been in the making for years, and it's something we're really proud of and excited to bring to our patients in the Magic Valley."
For now, center surgeries include orthopedic, podiatry, ear, nose, throat and facial procedures, with a vision to expand to additional services in the future. Five operating rooms and 19 pre- and post-operation suites serve the needs of patients having knee scope, shoulder scope, carpal tunnel treatment, tonsillectomy, septoplasty and bunion repair procedures.
St. Luke's Magic Valley also plans to construct a new medical office building on its property; construction is anticipated to begin before year's end.