Each year, the Advancing Adventures in Communicating Camp demonstrates that communication doesn't have to be a barrier for kids who can't speak. Thanks to generous support from St. Luke's Treasure Valley Auxiliary, this beloved camp has continued to attract campers from around the country and Canada.
Each year in June, children and young adults attend the five-day camp and enjoy many of the same activities offered in traditional summer camps, such as swimming and crafts. These campers require special devices to communicate; this is known as augmentative/alternative communication, or AAC. Typically, AAC users have diagnoses of autism, cerebral palsy, Down syndrome or other neurological disorders.
For the second year in a row, a $5,000 contribution from the Auxiliary helped fund the supplies and materials needed for the camp and also helped pay salaries for the St. Luke's employees who worked at the camp that week.
The 11th Annual AAC Camp took place June 6 – 11 on the campus of Northwest Nazarene University in Nampa, allowing 29 campers with varying abilities to experience a summer camp. Anne Kuhlmeier, St. Luke's speech/language pathologist and AT Clinical Coordinator, watches the impact the camp has on its participants each year.
"This camp is a chance for AAC users and their families to come together and share, learn and grow in the areas of recreation, social and communication," Kuhlmeier said.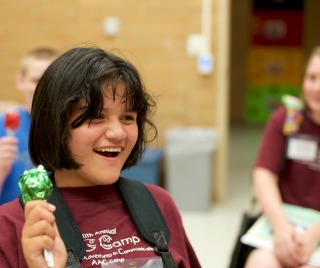 Each camper is paired with a counselor in order to work on social language and communication with peers and adults. The counselors include teachers, speech/language pathologists, nurses, aides and habilitative interventionists.
Families also have a chance to attend the camp and learn new skills through training sessions led by Kuhlmeier, Dr. Jacob Neufeld (director of pediatric rehabilitation at St. Luke's Children's Hospital) and others. Topics include AAC basics, ask the doctor, adapting toys and integrating speech generating devices into daily living.
"This camp touches the families, students and professionals, and the community with its presence," Kuhlmeier said. "By the end of the week, friendships created become lifelines for families and professionals during the rest of the year. The experience is crucial to keeping speech generating devices a viable means of communication for many of these AAC users."