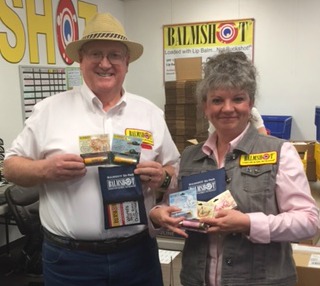 Wayne S. Forrey and his wife Karen personify the phrase, "When life gives you lemons, make lemonade."
The Boise man turned a cancer diagnosis into an opportunity to help others prevent cancer, and his business idea now generates money for St. Luke's Mountain States Tumor Institute.
Wayne, 63, and Karen, 60, met in high school in Twin Falls and have always been lovers of the Idaho outdoors. The couple enjoys hiking, fishing, camping, boating and skiing. The South Fork of the Salmon River has become their go-to outdoor destination.
In 1983, Wayne Forrey developed lip cancer as a result of his love of being in the outdoors, which would often result in sunburned lips. What began as a small bump, in a week's time had grown exponentially. He received care in Boise to remove the cancer and went on to have lip reconstruction surgery on his entire lower lip. Follow-up care was done with St. Luke's.
After the reconstruction, Forrey found himself using lip balm every day to keep his lips moisturized and protected. Dissatisfied with the standard lip balm tube, which had a tendency to rotate in his pocket, creating a waxy mess, he searched for a solution.
Forrey took things into his own hands in his garage one day in 2010. He noticed the smooth, shiny base of a shotgun shell and observed that it represented the Idaho outdoor lifestyle. With a firm shotgun shell base and tighter-fitting lid, along with SPF-15 protection, BALMSHOT lip balm was created.
Since 2010, the Boise-based company has expanded from the Forrey home garage into a warehouse. Alongside his production manager, Kevin Ruesch, Forrey has streamlined production from five machines to two. This system allows for 2,000 units of lip balm to be produced daily.
There are four lip balm varieties and a breath spray dubbed MINTYSHOT, which also sports the signature shotgun shell base.
BALMSHOT is sold in all 50 states and Canada, and is distributed from the Forreys' Boise warehouse. Major carriers include Idaho's own D&B Supply, Big 5 Sporting Goods, Sportsman's Warehouse, Cabela's, and most recently, Bed Bath & Beyond.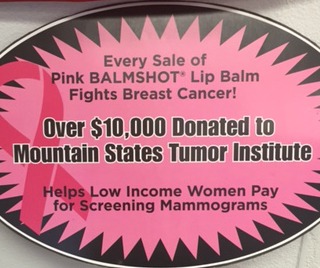 In 2013, Karen mentioned to Wayne that she saw a need for funding at St. Luke's Mountain States Tumor Institute, where she is employed. Karen's family has been touched by breast cancer and it is something she witnesses often at work.
The couple decided to focus on funding for breast care and mammograms. Pure Pink and Pure Pink Camo were the two lip balms that would bring in the proceeds from every purchase; the two products have a pink tint, symbolizing the mission for breast cancer awareness.
Proceeds from every sale of Pure Pink and Pink Camo BALMSHOT are donated quarterly to St. Luke's Mountain States Tumor Institute to fund breast care and mammograms for low-income, uninsured and underinsured women. To date, the company has raised $11,361.70 for MSTI.
Wayne is proud to call Idaho home. He has built a tight-knit team, and enjoys his role in the local economy. He is sure of one thing.
"I get asked weekly to move the company offshore to make more of a profit, but I'm proud to say this is an Idaho-born and -raised company. I plan to keep it that way."