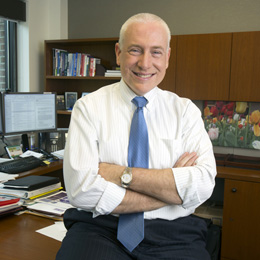 ---
ICD-10 is finally upon us. It is something we have been planning and preparing for, and we believe that we are ready.
It will be a major change from our past coding system, and here with an update on our readiness efforts are Kathy Eagan, who is leading the transition effort, and Dr. Bart Hill, St. Luke's Health System vice president and chief quality officer.

- David C. Pate, M.D., J.D.
---
What is ICD-10 and why is it important to St. Luke's?
ICD codes, or International Classification of Diseases codes, are used to properly note diseases on health records, track epidemiological trends, and assist in medical reimbursement decisions. ICD-10 is the 10th revision of these codes and the first update since 1975.
And while the classification system's original purpose was to classify diseases and injuries, providers, coders, insurance carriers, government agencies, and others in health care use the codes to document and categorize diseases, report epidemiological findings, and facilitate medical reimbursement.
The transition to ICD-10 is one of the biggest challenges we have faced in health care because it impacts so many areas, including physicians' clinical documentation, hospital and clinic coding, business analytics, information technology, and revenue cycle.
St. Luke's began getting ready for the change in 2012 and continued to prepare through the implementation delays approved by the federal government. We have established work streams to account for all of the affected areas and sought participation from key IT and operations personnel to work with the project team to ensure that our transition is successful.
Some coders and physicians who may have memorized frequently used codes in the previous version are facing a major change, moving to a system with four times more codes and a new alpha-numeric naming system. St. Luke's Health System coding staff have been preparing for ICD-10 for more than two years, having had classroom training, online training, and dual coding of patient records in both ICD-9 and ICD-10.
Dr. Bart Hill, St. Luke's Health System chief quality officer, is the executive sponsor of our ICD-10 program, and he notes a number of challenges that surfaced as preparations proceeded.
First, St. Luke's had more than 1,200 applications that had to be reviewed and more than 90 information systems that needed to accommodate this new set of codes. Synchronizing all these systems depended upon vendors' timetables, and then the systems had to be tested in our operational environment.
Next, staff, including inpatient and ambulatory coders, documentation improvement staff members, and some staff members in revenue cycle, needed to be trained in the more complex set of codes.
Finally, we had to assess our baseline level of provider documentation to determine which specialties needed what type of specific education, training, and feedback. And throughout this preparation period of more than two years, we were challenged with delays, lack of understanding regarding the change, maintaining stakeholder engagement, and uncertainty about the various impacts of the new system.
Physicians have received training on the specificity and granularity requirements of ICD-10, and we have offered training in different forms, organizing physician-led didactic sessions, online learning, presentations at physician meetings, and takeaway information containing the top 50 codes cross-walked from ICD-9 to ICD-10, along with important documentation tips.
Our revenue cycle team has been providing training, working with business analytics to establish baselines for key performance measures and develop dashboards to assist with quick identification of ICD-10-related issues that will have an impact on our reimbursement and cash flow. We have also purchased tools to help us track impacts and pinpoint specific specialties and physicians that may need additional support.
Information technology service team leads have continued to work with IT and business staff to ensure that all of our systems will be ready to process ICD-10 claims on Oct. 1. We have successfully tested claims submission with several payers and clearinghouses to ensure that ICD-10 claims will be transmitted appropriately on the first day of the transition, and completed end-to-end testing internally, using our highest-risk scenarios to ensure we can seamlessly process claims.
Dr. Hill feels confident that St. Luke's is ready for the transition. We anticipate challenges due to the number of systems and people impacted, and we're prepared for that. We have a robust go-live plan, key metrics to monitor, and a team ready to quickly address any issues that arise.
The ICD-10 transition is a very significant event for health care, and one that is probably long overdue. The increased specificity of the new classification system is a welcome improvement.
But as St. Luke's leaders know, and Dr. Pate has frequently expressed in this space, change is now the norm in health care. And while significant time and resources have been invested in this initiative, and we will likely have ICD-10 for at least the next decade, the next version, ICD-11, is slated for its initial release in 2017. St. Luke's again will be ready.