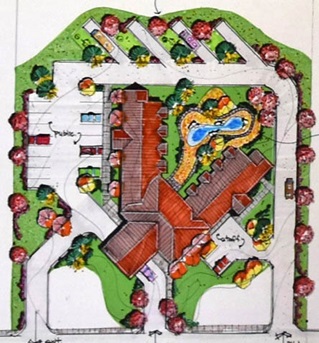 When Shellie Colvard was diagnosed with breast cancer in April 2008 she knew there would be challenges ahead. But those challenges had an added level of complexity because of the distance she needed to travel in order to receive care. Shellie and Paul Colvard, who live in Midvale, made weekly trips to St. Luke's Mountain States Tumor Institute (MSTI) in Fruitland so Colvard could receive treatment. It was 100 miles round trip.
"We put a lot of miles in," Colvard said. "But not in comparison to what others are doing. Think about traveling in the middle of winter, in snow or ice, or coming from Riggins or Council. That's another treacherous worry," Colvard said.
These days, Colvard's medical-related travels are limited to follow-up visits. Her experience inspired the Colvards to start Surviving Hearts three years ago in order to support others who face similar challenges. The group strongly supports fund raising efforts for the St. Luke's MSTI Respite House in Fruitland, because it will provide much-needed relief for families receiving cancer treatment and traveling from rural areas.
"It will be a home for patients and family members when they are traveling from long distances and need to be here for a few days to receive treatment," said Bruce Jensen, St. Luke's director of development.
Surviving Hearts will host a benefit for the Respite House on Sept. 19 at The Willows, located 10 miles north of Weiser. Last year's event was the first of its kind and raised more than $5,000 for the Respite House and also helped increase awareness surrounding the need for the project.
St. Luke's has invested $30 million in the first phase of the new Fruitland Medical Plaza, which opened just one year ago. Phase 2 of the project is a $25 million investment in the community. The Respite House and St. Luke's MSTI Fruitland Cancer Services are part of Phase 2, where the community is asked to contribute $2.5 million; for every $1 invested by the community, St. Luke's will invest an additional $9 toward the completion of Phase 2. When the $1 million mark is reached in donations and/or pledges the construction of the Respite House will begin. To date nearly $400,000 has been raised toward that effort and the goal is to begin this project in 2016.
Costs can add up fast when people living in rural communities need medical treatment, Colvard explained. Traveling long distances causes wear on your vehicle, requires money for gasoline, and also costs dearly in terms of time. The Colvards consider themselves fortunate for the support they received from family members. But that help isn't always available, and that's the type of support Surviving Hearts offers.
Small things add up to big differences for people traveling to get treatment. Even when help is limited to a gas card, people are "incredibly grateful," Colvard said. That additional help removes one more thing that would be creating additional concerns.
"One woman we helped last winter was going to get treatment when it was snowing and the roads were icy and miserable," Colvard said. "We gave her some money for gas and she was just overwhelmed."
The Colvards are artists and self-employed. While taking time away from work didn't require permission from an employer, it did take them away from their work and their clients for extended periods of time.
"We kind of needed to get back to work," she laughed. "It consumed us during that time."
The Respite House will remove some of the barriers experienced by people like Colvard by providing a temporary place to stay while receiving treatment. This allows people to focus on getting well rather than worrying about finding (and paying for) transportation to and from treatment.
"We think it is a wonderful idea, and it is something the rural area needs badly because of the travel involved to get treatment," Colvard said. "It's hard enough going through it without having to worry about getting on the road, driving there and maybe not feeling well."
Second Annual Evening at the Willows
Benefiting St. Luke's Mountain States Tumor Institute Respite House in Fruitland
Date: Sept. 19
Time: Social hour begins at 5 p.m. and dinner begins at 6 p.m.
Tickets: $50 per couple/$60 at door ($35 for singles)
What to expect: Dinner, live music, auction
Location: The Willows is located approximately 10 miles north of Weiser on Highway 95, ½ mile past the Mann Creek Store
To purchase advance tickets: Call Surviving Hearts at (208) 781-1778 or purchase tickets at St. Luke's MSTI Fruitland.
For more information about Surviving Hearts, visit http://www.survivinghearts.org/