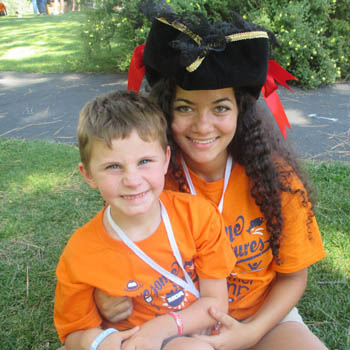 MDA  camper with  junior volunteer, Saskia Bock.
Thanks to the encouragement of St. Luke's Children's Hospital's Dr. Jacob Neufeld, St. Luke's McCall employees recently got to play a small role in an unforgettable fun-filled MDA summer camp.
The MDA camp is celebrating 60 years of "awesome adventures." For the past few years the Idaho camp has been held at Quaker Hill Camp in McCall, and this year more than 60 campers attended from throughout Idaho.
Saskia Bock, junior volunteer, and James Davis, clinical lab assistant, volunteered the entire week as camp counselors. Each camper is teamed up with a counselor for a one-to-one experience.
Bock was matched with a 6-year old boy.
"The experience was life-changing," she said. "Anyone who is interested in going into health care or working with kids should do this at least once in their life."
Davis was matched with a 10-year-old boy.
"It was eye-opening to see firsthand the struggles these kids have to go through," he said. "I've gained a new understanding and appreciation."
"It was a valuable experience. I'm glad I did it."
For the rest of the employees who wanted to participate and were unable to commit to the entire week, St. Luke's McCall sponsored two activities, casino night and the camp dance.
For casino night, the staff put on their card dealer hats, while Administrator Mike Fenello and his wife, Patsy, served up root beer floats.
One of the highlights of the week is the dance. The theme this year was "Under the Sea." The team started in the afternoon making decorations and setting up while Social Services Manager Jen Caple gathered up prom dresses for the girls to wear, and students from the Paul Mitchell School in Boise arrived to make sure the girls had the latest hair styles and makeup.
"The kids were so much fun," Fenello said. "I'm so glad we were able to contribute, even in a small way."