Concussion Education, Services Expand to Meet Idahoans Where They Are
By Chereen Langrill, News and Community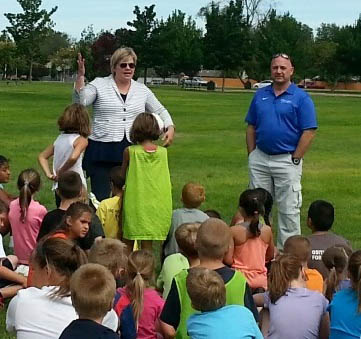 Concussion Clinic Community Relations Coordinator Stacy Falkner and Forrest Pecha, the director of clinic residency at St. Luke's Sports Medicine, gave concussion education presentations at the Basque Soccer Friendly Clinics held in Caldwell, Nampa and Boise in July.
Conversations about concussions are no longer limited to professional sports or college athletic programs. Adults and children sustain concussions through a variety of circumstances.
An adult can sustain a concussion because of a fall. Outdoor enthusiasts are at risk if they crash on a biking trail or have an accident while hiking or skiing. Children can be at risk as well because they engage in school or club sports. Even riding a scooter or having fun on the playground can result in injuries.
The effort to educate parents, students, coaches and others within the community is ongoing. For St. Luke's Sports Medicine Concussion Clinic, that effort has grown significantly year after year.
Stacy Falkner joined St. Luke's in January 2015 to serve as the community relations coordinator for the clinic. Falkner is part of a busy team that provides concussion education throughout Idaho. Demand for that education is on a steady upswing. Falkner estimates she will give close to 80 concussion education/outreach presentations this year.
"If they are a community member, whether they are 5 years old or 95 years old, we want to meet people where they're at," she says.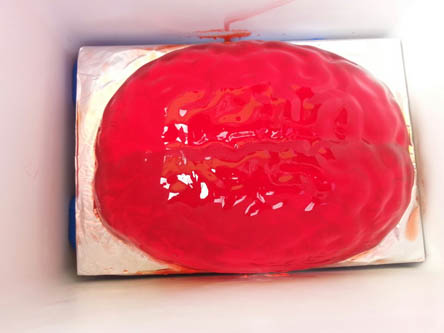 The clinic offers concussion education as a free service to the community. The outreach resonates with Falkner because she has a master's degree in health science with an emphasis in health promotion (she graduated from Boise State University in May 2015). She likes to think of herself as a public health employee who works for St. Luke's.
Falkner's interest in concussion education is also personal. As the mother of four boys ranging in age from 16 to 1, she understands the risks that come with sports and other activities; one of her sons sustained a sports-related concussion in 2013.
In her first year with the clinic, Falkner's outreach has included a diverse and robust schedule including community events, sports facilities, city recreation programs and schools.
"Our goal this year was to get into some new places we haven't reached before," Falkner says.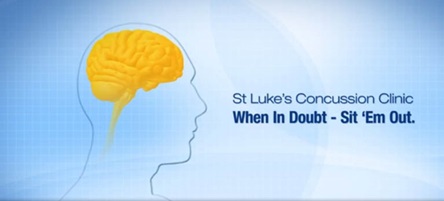 A new public service announcement called "When In Doubt, Sit 'Em Out" explains the dangers of concussion.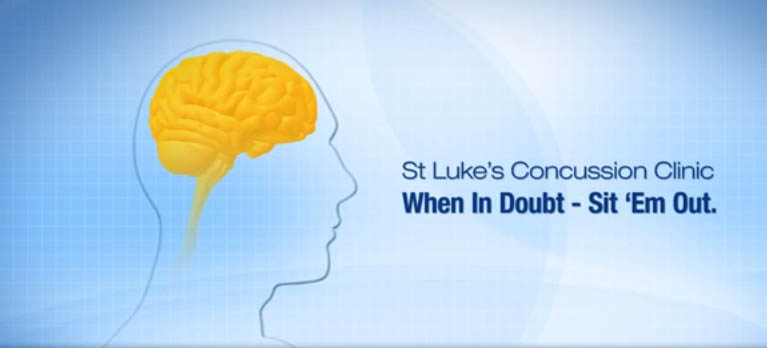 A sampling of outreach this year:
A unique pilot program that began this fall incorporates concussion education into standard eighth-grade health curriculum, making Idaho the first state to do so. The program is currently being implemented at three schools within two different Idaho school districts. Falkner hopes to see it expand further in the spring
In mid-July, the concussion education team gave presentations to children at four community soccer clinics. The clinics, held in Caldwell, Nampa and Boise, were offered for free to about 1,000 children as part of the Basque Soccer Friendly.
Concussion education and a new concussion management protocol are currently being introduced at Idaho IceWorld. Youth hockey coaches, parents and players have the opportunity to attend concussion education presentations held on a monthly basis.
Falkner is currently working with the Treasure Valley YMCA to incorporate concussion management protocol into its youth sports programs and facilities. The Mountain Home Parks and Recreation Department is introducing concussion education as a new component of its community sports program. Falkner is now making presentations to staff and volunteer coaches to help them understand the best-practice management of concussion youth.
The team recently produced a public service announcement featuring Matt Kaiserman, a former Boise State football running back and current St. Luke's employee. Kaiserman sustained a career-ending concussion during the 2010 MAACO Bowl and was instrumental in passing Idaho concussion legislation and the establishment of the Concussion Clinic in 2012. Click here to view the 30-second video
Prior to the 2015-2016 school year, Falkner and Clinical Coordinator Kristi Pardue made presentations at teacher in-service sessions to inform educators about the consequences of concussion. A significant portion of the presentation focused on return-to-learn protocol in order to support teachers of athletes returning to the classroom after a concussion.
"Every year the national conversation around concussion grows. Fortunately, more and more people are recognizing the importance of proper concussion identification and management," Falkner says.
For more information, visit the concussion clinic online: www.stlukesonline.org/concussion