Fighting hunger in rural Idaho is the Cascade Food Pantry's mission. Reducing rates of Type 2 diabetes and other chronic disease is a St. Luke's goal.
And a new community program that joins the two and centers on growing great greens – and a bounty of other edibles – may be a recipe to improving the health of people in the Valley County area.
"Partnering with the Cascade Food Pantry and working together toward common goals helps us all be successful," said Liz Jones, St. Luke's McCall Center for Health Promotion coordinator.
Cascade Food Pantry debuted the Pride of the Pantry Plots this summer. The program rents out raised garden beds to the food bank's recipients and community members for $10 a season. This nominal fee encourages participants to make the commitment for the season without creating financial barriers.
The idea for the garden plots was set in motion when Mark and Kristina Picard shared their experiences of successful community gardens in Florida and wanted to start a program in Cascade. The Picards helped launch the project.
Gail Greco, Food Pantry board member, went into action and invited potential community partners to form a steering committee that could help make the project a reality.
The planning and dreaming of summer vegetable gardens began, and the Pride of the Pantry Plots program was born.
Lori Anderson, the Food Pantry's executive director, took it from there. She facilitates the committee and brought the program to life.
Next up were Cascade High School wood shop class members, who volunteered to make 32 wooden raised garden boxes. Cloverdale Nursery, Alpha Nursery, and Wade Olson provided organic soil, compost, and a watering system, and oversaw the spring installation of the beds.
More partners jumped into the mix, and Cascade Community Garden volunteers and Horizons Community Partnerships joined as active participants to help design processes based on their experiences.
And to help the gardeners get off to a successful start, the University of Idaho's County Extension Master Gardeners hosted a Victory Garden education series over the winter. They provided tips on what grows well in the region's short season and how to extend the season for garden favorites like tomatoes and zucchini.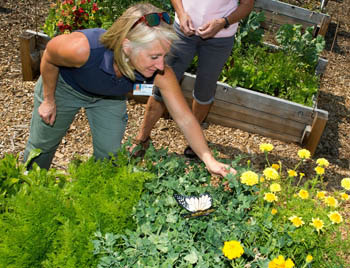 Liz Jones, St. Luke's McCall Center for Health Promotion coordinator.
Jones, who along with her St. Luke's activities is also a master gardener, taught many of the classes and encouraged the group to grow nutritionally dense foods like kale and broccoli. Her programs included tips on how to incorporate more fruits and vegetables into meal plans with healthy recipes and how to preserve produce using freezing and drying techniques.
"I had never tried kale before. It's pretty good," said a Smith's Ferry resident who planted her own raised bed at home after attending the Victory Garden class. "I tried growing a garden before, but was unsuccessful due to the weather. The class was very helpful."
St. Luke's McCall also provided Ball® Blue Book Canning books to all Victory Garden class participants to help guide them through safe food storage practices.
Cascade Elementary School children wanted to help too, so they grew vegetable and flower starts from seed as a school project. They brought their plants and sold them at the Pride of the Pantry Plot's opening day for $1 per plant as a fundraiser for their class. Idaho's backcountry Shepp Ranch also donated heirloom seeds to the gardeners.
"It took a lot of people, businesses, and volunteers to launch this new project," said Anderson. "I couldn't be happier with the success we have experienced in the first season. We've already harvested more than 200 lbs. of fresh produce and we still have potatoes and onions left."
Additional St. Luke's McCall's Center for Health Promotion partnerships include:
Healthy cooking classes held at WICAP and during Head Start's family night. The programs include tips on eating healthy on a budget and engaging youngsters with their own healthy cooking projects.
Healthy recipes made available in partnership with WIC to bring more fruits and vegetables and fewer processed foods into homes.
Produce coupons for WIC participants to supplement the cost of nutritious foods. Liz Jones worked with WIC to get the coupons to apply to Ridley's Market's monthly $10 produce bag specials. The special allows shoppers to put as much produce into a bag as possible, all for only $10.
Volunteer staffing at the Donnelly Food Bank to assemble and distribute special meal bags that contain a healthy recipe and all the ingredients to make the meal.