Baby Joziah Pinon went home on Aug. 14, after 100 days in St. Luke's Magic Valley's Newborn Intensive Care Unit.
On that last day, NICU nurses threw Joziah a surprise party with gifts, a cake and party hats. "Happy 100 days," they said as they entered his room.
"I'm taking my baby home after 100 days," said Jana Lemke, his mother. "I'm very excited. It's scary to know what he has been through."
The journey to go home hasn't been easy.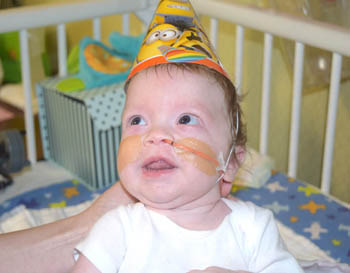 Why the prolonged visit in the NICU for Joziah? He was born with Neonatal Graves' disease.
Neonatal Graves' disease is hyperthyroidism that happens in a small percentage of infants born to mothers with Graves' disease. The infant develops Graves' disease when the mother's antibodies cross the placenta and into the infant's circulation.
Some signs and symptoms of Graves' disease in a neonate are goiter, increased heart rate (tachycardia), irritability, jitteriness, restlessness, and significant weight loss. Neonatal Graves' disease can be severe and life threatening. Many of these infants will be developmentally delayed due to the impact of hyperthyroidism on the brain.
Caring for this tiny patient is a big job.
Twenty-four hours a day, 365 days a year, St. Luke's Health System NICU teams are dedicated to the delicate physical, emotional, and developmental needs of premature and severely ill infants.
It's that dedication that lead to this milestone of going home for baby Joziah.
And, for his mother, August 14, 2015 is a day that she'll never forget. It's the date that her family was able to finally begin their journey together at home.