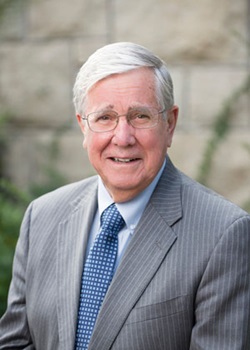 St. Luke's Health Foundation will recognize Bob Hoover, executive director of the Idaho Community Foundation, with the Ralph J. Comstock Jr. Light of Philanthropy Award Nov. 6 for his long-time dedication to education and philanthropy.
Bob was raised in Phoenix, Arizona, and attended Arizona State University. He earned master's and doctorate degrees and enjoyed a career in higher education that spanned more than 35 years.
In 1995, Bob moved to Idaho to become president of the University of Idaho, creating scholarships, recruiting top professors from around the country, enhancing technology, and overseeing expansion. He subsequently was named president of the College of Idaho, formerly Albertson College of Idaho, where he worked to improve the college's endowment and scholarships, relationships with alumni, faculty, and staff, and diversity in enrollment.
He then transitioned from higher education to the Idaho Community Foundation, where his decades of working with major donors, endowments, and boards culminated in the successful strengthening of that organization. Since 2009, both the assets and endowment of the Idaho Community Foundation have doubled, and the Foundation has opened offices across the state to allow for regional access to funds.
The Light of Philanthropy Award recognizes outstanding achievements by community members who reflect the spirit and leadership of the late Ralph J. Comstock, Jr. a philanthropist, humanitarian, and long-time executive with First Security Bank of Idaho whose civic involvement included work with Boise's Morrison Center for the Performing Arts, St. Luke's Mountain States Tumor Institute, and St. Luke's Boise Medical Center.
Tickets:
Tickets for the Ralph J. Comstock Jr. Light of Philanthropy Award and St. Luke's Ball, honoring Bob Hoover, still are available. The event will be Friday, Nov. 6, at the Stueckle Sky Center, Boise State University.
A cocktail reception begins at 6 p.m. with dinner and the award presentation at 7 p.m. Music and dancing to follow.
Formal attire is suggested. Tickets are $125 each and can be purchased by contacting St. Luke's Health Foundation at 381-2123 or [email protected].