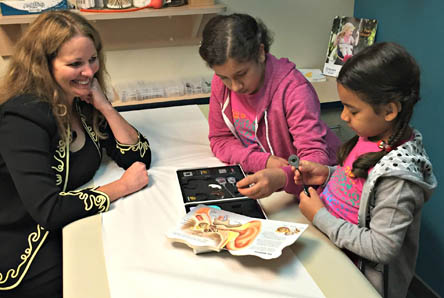 People come to Boise from throughout the country to receive cochlear implants. But the Mousavi family has traveled the furthest in order to get the procedure, and it will happen because of some special services provided by St. Luke's.
Dr. Jill Beck performs between 40 and 50 cochlear implant procedures each year. About half of those patients are adults and the other half are children, and Beck says the clinic serves people from Southern Idaho, Eastern Oregon, and Northern Nevada. A family of Afghani refugees moved to Boise for the opportunity to have the procedure performed on their two daughters, ages 13 and 8. The procedure was performed on October 21, giving the Mousavi girls the opportunity to hear for the first time in their lives.
The cochlear implant program has been in place for 15 years at St. Luke's, and the multidisciplinary clinic was added about two years ago. While there are other Idaho providers who perform the procedure, the program at St. Luke's is unique because it integrates audiologists, speech language pathologists, social workers and ear, nose, and throat physicians to give patients access to all of the experts they need.
The cost of the procedure will be covered by Medicaid. In 2014, St. Luke's Health System incurred $225 million in unreimbursed costs caring for patients covered by federal and state government programs such as Medicare and Medicaid.
The Mousavi family's journey powerfully illustrates the value of unique services provided by St. Luke's. Without those services, this family would likely not have this opportunity.
Because the family doesn't speak English, St. Luke's provided an interpreter who could speak Farsi (the language native to Iran) to ensure they would be able to clearly communicate with Beck and others on the team. Interpreters are provided at no charge to people who need a translator, according to Isbelia Burnham, manager of Cultural and Language Services – West Region.
"It is so critical that patients are able to express what they are feeling in their own language. If we didn't have that service patients would not be able to communicate with the provider," Burnham said.
In the West Region alone, Burnham's department receives an estimated 540 calls each week from providers requesting interpreter services. Her team schedules 100 appointments each day. In addition to the Treasure Valley, similar departments are also in place at St. Luke's Wood River and St. Luke's Magic Valley.
An interpreter attends every appointment with the Mousavi family. During a recent meeting, Sayed and Zaynab Mousavi tearfully explained, through the interpreter, that they can see a day when their daughters can hear and talk to them.
"The ability for them to come to this country, integrate, and also communicate with each other and the outside world, it just has the potential to bring a lot more people into their lives." Beck said.
The Mousavi family isn't just unique in terms of geography. This will also be the first time Beck has performed the procedure for two siblings on the same day. She normally does one procedure per day, but she made an exception for the girls because she wants them to go through each step of the process together.
"What a journey these two girls have been through together," Beck said. "They have to have their implants on the same day. They have to go through this together."