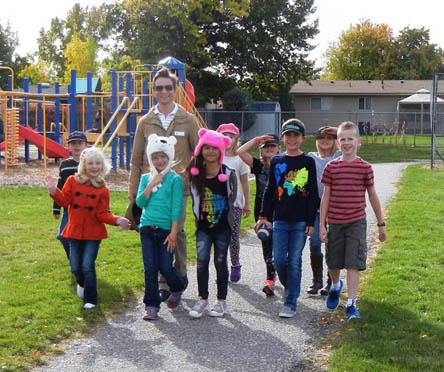 Mayors in 25 southwestern and central Idaho cities have accepted a month-long challenge to serve as health ambassadors in their communities.
The Mayor's School Walking Challenge is sponsored by the High Five Children's Health Collaborative, Idaho Dairy Council and St. Luke's Health System in order to inspire healthier habits within communities. The mayors will track their miles with FitBits provided by BlueCross of Idaho and compete for $5,000 to donate to a park or school of their choice.
Participating mayors encourage elementary schools in their cities to join the challenge by logging miles of their own. More than 62 schools are registered to compete; schools with the highest average number of miles per student will win $2,000 for physical activity or food service equipment.
The Mayor's School Walking Challenge is designed to improve children's health by inspiring them to walk or run at school. Mayors act as role models for students and encourage participation throughout the city.
"The School Walking Challenge helps to build teamwork, enhance school pride, and increase public awareness of the benefits of walking," said Dr. David C. Pate, St. Luke's president and CEO. "By encouraging children and adults to walk, St. Luke's hopes to improve the health of people in our region."
The High Five Children's Health Collaborative and Let's Move Boise launched the first School Walking Challenge in October 2014. More than 13,500 kids at 37 schools in eight Treasure Valley cities walked or ran an impressive 102,445.18 miles. Local elected officials participated in their own friendly competition. Nampa Mayor Bob Henry was the top finisher with 217.80 miles.
With the addition of St. Luke's and the Idaho Dairy Council as sponsors this year, the challenge has expanded to communities in the Magic Valley, Elmore, Payette, Blaine, Adams and Valley counties.
"Childhood wellness doesn't come from a single day of activity, or a single nutritious meal," said Blue Cross of Idaho CEO, Zelda Geyer Sylvia. "It comes from a consistently healthy lifestyle and good habits that will lead children into adulthood. The Mayor's School Walking Challenge provides Idaho children with community role models and shows how fun and simple active lifestyles can be."
Schools are invited to register for the challenge by contacting Courtney Young at [email protected].
Learn more about the Mayor's School Walking Challenge and view a full roster of participating mayors and schools from the website.