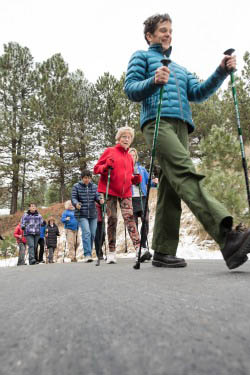 The collaboration has been gaining steam since 2013, when not-for-profit health organizations first were tasked with conducting Community Health Needs Assessments in response to part of the Affordable Care Act.
St. Luke's conducted assessments to determine levels of health in all the communities it serves, including McCall. When Lyle Nelson, director of community relations and the Center for Health Promotion, began to develop an implementation plan to address the top health needs in the McCall area, it became obvious that broader community engagement would be needed.
"I quickly came to the realization that to improve community health, it will take many stakeholders pooling our limited resources to have a greater affect," Nelson said.
Nelson reached out to Jaime Harding, Central District Health Department program manager, to see if the organization might be interested in partnering on an implementation plan.
"Our conversation quickly turned to, 'Who else needs to be at the table?'" Nelson said.
They began identifying other entities with similar goals, including healthcare organizations, schools, government agencies, businesses, and community groups. A meeting was held to explore the idea of working together. Initial meetings were spent learning about what each group was doing and how they could support each other.
In 2014, the Valley-Adams Health Improvement Coalition was formed. Laurel York Odell, a not-for-profit strategic planner, was hired to facilitate the coalition's structure and help the group get out of the starting block and moving toward action.
The coalition adopted four health issues: youth tobacco prevention, nutrition, domestic abuse, and creating walking-friendly communities. A work group was formed for each health initiative.
The sharing of new programs is already taking off for the walking work group. After Robert Sweetgal of McCall presented a walking and wellness program, the Cascade Medical Center Helping Hands Physical Therapy department made a connection and realized patients could benefit from the use of walking poles. The poles provide stability when walking and encourage outdoor exercise.
Cascade Medical Center purchased walking poles for patients to use and to loan out to anyone in the community who wants to borrow them.
Based on the success of the program in Cascade, the City of McCall and St. Luke's McCall are partnering to make walking poles available this winter for use on the walking trails at the McCall Golf Course.
"The trails have been really popular and get a lot of use, but the paths can get icy. We hope the poles will encourage more community members to use the paths by providing an extra measure of stability and safety," said Mark Pernell, City of McCall Recreation supervisor.
"Through greater awareness of programs and resources, the coalition builds partnerships that may not otherwise exist and can have a greater effect on people's health," Nelson said.
For more information, or to get involved with any of the work groups, contact Lyle Nelson at 208-630-2224.