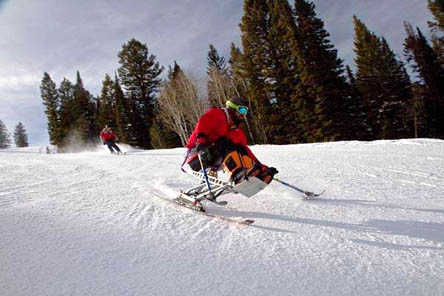 Marc Nagel has always loved sports and has relearned how to do many of the activities he enjoys, like skiing. He said getting on the FES bike makes a significant difference. "It really seemed like it woke up the muscles in my legs," he said. "It helps. It really does."
St. Luke's Rehabilitation Clinic, with community support, will soon have a new exercise and wellness option for local veterans and individuals with impaired muscle function due to spinal cord and brain injuries, stroke or multiple sclerosis.
Money raised through the Idaho Steelheads Military Jersey auction Nov. 6-7 will help purchase a functional electrical stimulation (FES) bike for the clinic in Boise. More than $17,000 was raised through the Steelheads auction, giving St. Luke's Rehabilitation the boost needed to purchase the equipment. An FES bike generally costs between $30,000 and $35,000.
FES cycling incorporates electrical stimulation to impaired muscles with cycling of either the arms or legs. It has been proven to increase lean body mass, cardiovascular fitness, skin protection, spasm management, bone density and quality of life.
For Marc Nagel, a Boise resident, physician assistant, and veteran with a lower spinal cord injury from a 2011 parasailing accident, having an FES bike available here means he can continue to chase the possibility of walking.
"My spinal cord was damaged, not severed," Nagel said. "It got shocked so badly, it literally forgot how to communicate below the injury. When you are using the FES bike, pushing through that range of muscles, you are waking them up, making them remember what it feels like to do this motion."
Nagel, 37, was a member of the U.S. Army National Guard for eight years, including a year in Iraq, and receives his health care through the VA Medical Centers. After the accident, the VA sent him to a VA Medical Center in New Mexico for three months of treatment. He was introduced to the FES bike there.
"I got quads and hamstrings back. I can do leg presses and some activities. I don't have calves and glutes yet," he said. "But everything I have plugged in on the machine has come back. It would be a great opportunity for recovery" to have an FES bike in Boise. "I'd show up at 11 at night to ride that thing."
Joe Wegley, an adult neuro physical therapist at St. Luke's Rehabilitation Clinic, says he knows of no publicly accessible FES bikes in the state of Idaho, nor any outpatient facilities with access to this technology in the region.
"A lot of people do not have the capacity to get the benefits of exercise after they get hurt," Wegley said. "This will provide a very unique and very limited treatment to the community."
People who use the bike say they feel happy to see their leg muscles contracting and they feel healthier doing regular exercise. Like other forms of exercise, the benefits only last as long as the activity is sustained.
Wegley has been trying to get one of the bikes since 2011.
On Nov. 6-7, the Steelheads wore specially designed patriotic jerseys to honor the military. The jerseys were auctioned off through the weekend, with 100 percent of the proceeds going to help purchase an FES bike.
"It's a fundamental tool if any rehab center is interested in doing spinal cord and stroke work," Nagel said.