Dan Vargas, 51, of McCall, celebrated one year of sobriety in October, and he credits his success to the care team at St. Luke's McCall. That team – which includes Dr. Sarah Curtin, registered nurse care coordinators Shannon Nelson and Dianne Robinson, and patient navigator Lindy Carr – gave Vargas the motivation he needed to begin a life-changing transformation.
"I spent most of my life running from my past and in fear," said Vargas. He was suffering from undiagnosed post-traumatic stress disorder. "I was drinking a lot, which led to getting in fights, two DUIs, trouble with the police and a strained relationship with my kids."
Vargas was in the St. Luke's McCall emergency room many times. At one of those visits, Dr. Curtin told him his blood pressure was too high. She didn't hold back as she explained how his drinking was impacting his health and life.
"She told me, 'If you keep doing this, you will die,'" Vargas said.
After that conversation, he took a walk and thought about his friends and family. "I just got tired," he said. "It took me years to realize I just can't keep drinking."
Once Vargas decided to address his alcohol abuse, he had a healthcare team ready to partner with him to improve his health. Through St. Luke's Clinics in McCall, he worked with a team of providers to identify next steps based on his personal health goals.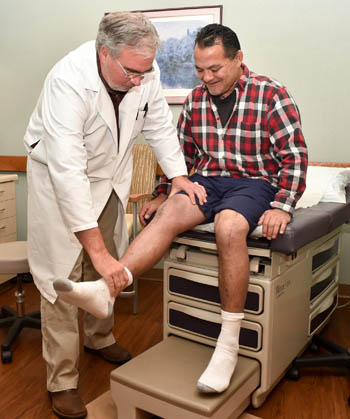 "It's the first time anyone treated me like a person without judging me," said Vargas.
For Vargas, it started with having a frank conversation with Dr. Curtin and his decision to do something about his health. Carr was able to assist him in signing up for healthcare coverage, while Nelson and Robinson helped coordinate the necessary appointments and resources.
"My role is part nursing, part social work and part detective work," said Nelson. "You have to be persistent and treat patients with respect."
The care coordination program started after the St. Luke's McCall Foundation received a grant from the Cambia Health Foundation in 2014. The program is currently funded by both St. Luke's McCall and funds from a new grant from the Federal Health Resources and Services Administration.
"Now that we have more resources we have been able to assist more people," said Nelson.
Referrals are received mostly from doctors in the clinics and emergency department, in addition to social workers, counselors, McCall emergency medical services, drug store pharmacists, and St. Luke's Home Care.
A lot has happened this past year for Vargas. He quit drinking, had knee replacement surgery, and had major dental work. The care team helped him find a dentist who would do some much-needed dental work at a reduced cost.
He credits Nelson and the entire team with his transformation. "She gave me the encouragement and compassion I needed."
Vargas is a landscaper and an artist – he builds custom furniture out of recycled furniture and household items. His improved health has given him more energy to do his work and his art. He is also rebuilding his relationships with his adult children.
Vargas offers this advice to others: "Don't be scared to ask for help, it's out there, and there's a lot of it."