Speedy, Seamless Treatment Saves Rural Idaho Stroke Victim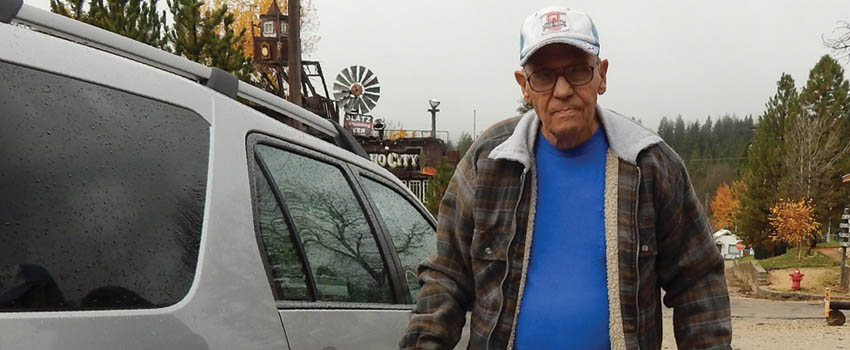 By Sandra Forester, News and Community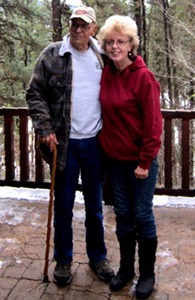 Ray and Barbra Kennedy in December 2014
When Ray Kennedy of Idaho City fell to his bathroom floor with a life-threatening stroke on Oct. 2, 2014, his wife, Barbra, immediately called 911.
What she didn't expect was the fast, smooth execution of his care through the collaboration of the local police chief, the Placerville Volunteer Ambulance, Air St. Luke's and the Boise hospital providers.
"I'm here to tell you that they were fantastic," she said. "Air St. Luke's, they were just amazing. They just came in the house, and they knew everything. I felt comfortable. It didn't even cross my mind that he wouldn't make it once they took him."
Ray, 82, was transported to St. Luke's Boise. He was admitted to the Emergency Department and within 38 minutes, he was on his way to the Neuro Intervention Suite, where interventional neuroradiologists removed a clot from his left carotid artery. Barbra said though his condition was touch and go at first, he showed signs of recovery within hours. The next day, he could move his foot and left arm. By the third day, he was able to see and talk, and made a joke about needing a shot of whiskey.
Barbra said the care was so seamless, it seemed like providers knew in advance that her husband was going to have a stroke and were already prepared for him.
"I was so impressed," she said. "It just seemed like everything was planned."
Dr. Mark Burningham, the emergency room physician who treated Ray, said St. Luke's stroke team has developed solid partnerships with emergency responders in the communities, Air St. Luke's and departments within the hospital to make sure everyone is trained and prepared to handle stroke patients.
"They have turned this into a really well-oiled machine," Dr. Burningham said. "Things are already started in advance. We can get things done for them," the interventional neuroradiologists.
Dr. James Torres, an emergency room physician at St. Luke's who leads St. Luke's efforts to standardize protocols, organize processes, and educate people about stroke care, said the Health System continues pushing to improve and quicken treatment and processes. St. Luke's hospitals in Boise, Meridian and Twin Falls have been certified Primary Stroke Centers for several years.
"We're trying to get the word out," Dr. Torres said. "Time is everything because all the treatments are time dependent."
The most important thing patients or their families need to know is time is brain. If someone appears to have stroke symptoms – numbness or dropping on the side of the face, speech difficulties and muscle weakness on one side, the person should be taken to the hospital as soon as possible. Doctors say anyone who thinks they may have symptoms but they're not sure, just needs to come to the hospital. Rehabilitation after a stroke can be limited or challenging, especially if the artery doesn't get opened right away.
"We know it works. It really makes a difference," said Teresa E. Smith, St. Luke's Treasure Valley Stroke Program manager. "If you wait to see if you get better, we can't always treat you."
Smith said it is important that people come right away, ideally within the first hour of symptoms onset, in order to have the best outcome.
"It saves brain tissue, and that saves function," she said.
Dr. Torres said St. Luke's treats more than 500 stroke victims a year.
St. Luke's doctors looking at those cases found a correlation between stroke and atrial fibrillation – an irregular rhythm of the heart, Dr. Torres said.
Untreated atrial fibrillation was the No. 1 reason for preventable strokes among people who have been treated at St. Luke's, he said.
"You have five times the risk of having a stroke if you're untreated for atrial fibrillation," Dr. Torres said.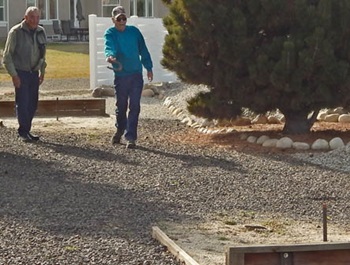 Ray Kennedy, right, and friend pitching horseshoes in February 24, 2015
Patients who have symptoms of atrial fibrillation should see their doctor and receive the proper medication. Symptoms can include racing or uncomfortable heartbeat, weakness, fatigue, lightheadedness, dizziness, confusion, shortness of breath or chest pain.
Ray Kennedy's stroke was not related to atrial fibrillation. He had a clot blocking a large blood vessel. Large vessel occlusions account for about 30 percent to 40 percent of all strokes.
Barbra said Ray had always been pretty healthy and the stroke caught them off guard. He had complained of blurry vision for a few days before his stroke Oct. 2. Just minutes before the stroke, he told his wife he couldn't see. After he fell down, he couldn't respond to her, his face sagged and he stopped moving his arm and leg.
Now Ray, who retired from construction in 1995 and drove a snow plows at Bogus Basin for nine years, continues to recover at home and is grappling with some weakness. He's working on the house and the yard, exercising and visiting family.
"Other than that, we're just taking it easy these days," Barbra said.