St. Luke's Sports Medicine Supports, Inspires Extreme High School Athletes
By Sandra Forester, News and Community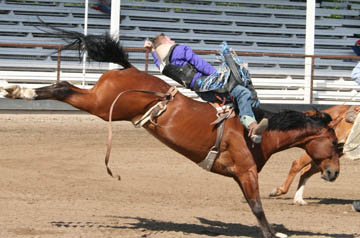 By Janet Miller
St. Luke's News
If you pull up to a District 2 High School Rodeo in Idaho, one of the first things you may see amongst the horses and athletes is the St. Luke's Sports Medicine trailer.
The trailer, specially designed and crafted after the Justin Sports Medicine trailer that travels the Professional Rodeo Cowboys Association (PRCA) Circuit, was the brain child of Dr. Robert Walker, a St. Luke's orthopedic surgeon and team physician for Justin Sports Medicine.
As impressive as it is to see a mobile, state of the art facility, that is not what matters most to these extreme athletes.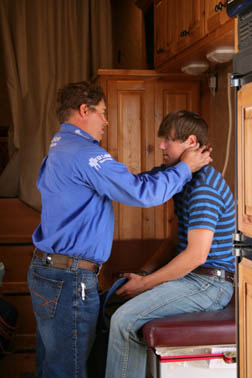 Kevin Taylor examines Nathan Duckworth during a recent event.
Kevin Taylor, MS, ATC, LAT is the Rural Outreach/Rodeo coordinator for St. Luke's Sports Medicine. He travels throughout Southwest Idaho to a variety of sporting events from Melba to Garden Valley. Through the rodeo program, he attends the National High School Rodeo Association (NHSRA), Idaho Cowboy Association (ICA), Professional Rodeo Cowboy Association (PRCA) and Professional Bull riders (PBR) sanctioned events. Although Taylor has no ties to the rodeo world, he says he enjoys helping these athletes stay healthy.
Before the rodeo has even started Taylor is busy inside the trailer taping the wrist of a bull rider recently released to begin riding again after fracturing his arm. Throughout the morning there is a steady stream of athletes stopping by the trailer for everything from injury screens to advice on how to stretch correctly for their event.
If you are at an event attended by St. Luke's athletic trainers, you don't have to look far to find them. When they are not in their trailer caring for an athlete, they are arena side and typically the first to respond in case of an injury.
Clay Sauer, Marsing Rodeo coach, organizes a rough-stock school each year and was pleased to have St. Luke's Sports Medicine in attendance last fall to discuss staying healthy as an extreme athlete. Overall health was emphasized, including nutrition, taping and appropriate stretching. Sauer said he has no doubt many injuries have been prevented because of St. Luke's involvement in the rodeo program.
He also says he encourages all of his athletes to utilize the program, not just his rough stock riders. Ropers and barrel racers get injured and need conditioning tips as well.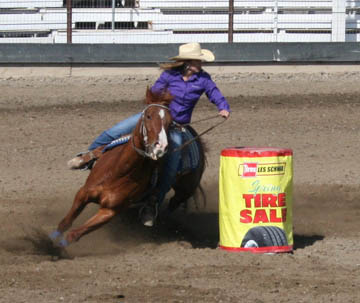 Lorenzo Lankow, a bareback rider, has utilized St. Luke's services several times, and says it is nice to know if he is hurting, they will dig deeper into possible causes and not just hand him a bag of ice.
His father, Michael Lankow, said that sometimes the rodeo participants are multi-sport athletes and their injuries may be from those other sports, but the Athletic Trainers are always open to screening injuries for anyone that shows up. "Many of the smaller schools don't have access to athletic trainers, but the athletes are able to access those services through the St. Luke's Sports Medicine Program outreach," he said.
One unexpected benefit to the program is that it has inspired many athletes to look at sports medicine as a career, hoping to benefit the next generation of athletes.
There is no doubt this program is preventing injuries, keeping these athletes safe as they compete in their extreme sport and inspiring future athletic training professionals.
"It would be hard to keep this sport going without the support of St. Luke's," Marsing Rodeo Coach Clay Sauer said.