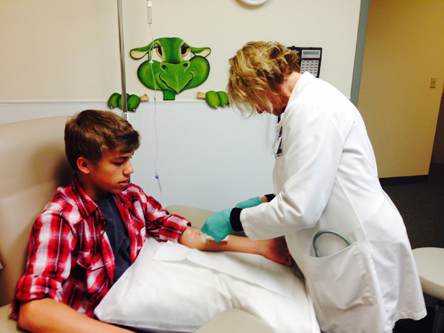 RN Marian Ioli is on hand to provide the blood draw for Easton, 14. Easton is part of the TrialNet program.
A recent report by TrialNet on study participation found that St. Luke's Humphreys Diabetes Center's TrialNet site was No. 1 in per-capita screenings across the United States.
TrialNet is a network of clinical centers working with dozens of screening sites throughout the United States, Canada, and other countries to study, prevent, and treat type 1 diabetes. The network, of which St. Luke's Humphreys Diabetes Center is a part, is supported by the National Institutes of Health.
A Pathway to Prevention is the network's ongoing study of the development of type 1 diabetes, and screening is the first step in the process.
TrialNet offers a blood test that can identify increased risk for type 1 diabetes up to 10 years before symptoms appear. The test looks for certain markers, called autoantibodies, in the blood, signaling an increased risk for the disease.
Those who test positive for increased risk of type 1 diabetes may be able to join research studies testing ways to delay and prevent the disease. Those who have autoantibodies are closely monitored.
Since starting the study in 2004, Betsy Koehler, St. Luke's Humphreys clinical research coordinator, has helped recruit and screen 1,239 relatives of people with type 1 diabetes.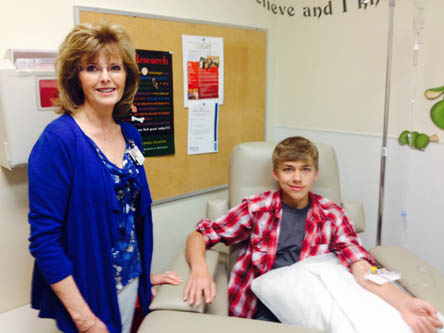 "My dream is to have brochures available in all St. Luke's clinics and health care locations so patients with type 1 diabetes can learn from their healthcare team that this study is available to them at no charge," she said.
St. Luke's Humphreys Diabetes Center is part of three TrialNet studies – Pathway to Prevention, Oral Insulin, and a long-term investigative follow-up study called LIFT.
Susie Hurst, the mother of Easton, 14, and Kai, 5, knew about TrialNet and had both of her other sons entered into the research study after Kai was diagnosed with type 1 diabetes in November 2014.
Easton was at St. Luke's Humphreys Diabetes Center on Wednesday, April 8, 2015 for an Oral Glucose Tolerance Test (OGTT) and blood draw. When asked why he agreed to be in the TrialNet program, Easton replied, "It looks like the research may help someone in the future."
Call St. Luke's Humphreys Diabetes Center at 208-331-1155 for more information about TrialNet and the studies.