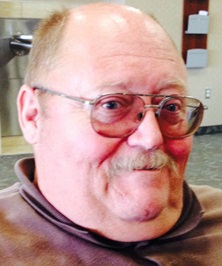 David Wilson knew it was a time to make a change. "I got up to change the channel on my TV. It was just a few steps but it took me more time to catch my breath than it took to actually change the channel." At the time he weighed 533 pounds and had severe sleep apnea. "I didn't want to do anything. I would sit down and fall asleep because I was so tired," David explains. He was sick and tired of being sick and tired, and he knew he would need some help. He made an appointment with Dr. Isaac Elam at the St. Luke's Family Clinic in Fruitland in July 2014.
Dr. Elam first diagnosed David with sleep apnea and began treating him for it. David quickly began to feel better and move more. "David was highly motivated to make a change," says Dr. Elam, so he referred David to Marisue Smith, a registered dietitian and Certified Diabetes Educator with St. Luke's Humphreys Diabetes Center who works at the Fruitland clinic every Monday and Tuesday.
"We started by remodeling some of his food choices with healthier options," Marisue explains. David began to make small changes. No soda, potato chips or candy in his house. He curtailed his eating out and ordering in pizza. He switched from drinking 2% milk to 1% milk and he eliminated fruit juice. Those small changes led to some weight loss. Then Marisue bought David a pedometer and encouraged him to start tracking his steps.
At first he could only do 500 steps in a day but with Marisue's encouragement, he slowing started to build up his steps every week and now he logs at least 6,000 steps each day. "I went from not wanting to get out of bed to now wanting to get up and get my 6,000 steps in," David says with a smile. When asked what keeps him motivated to keep moving forward David explains "There is a history of type 2 diabetes on both sides of my family. My brother has it, and I don't want it."
His commitment is paying off. He's dropped 73 pounds so far, with the goal of losing 100 pounds by July. But he doesn't want to stop there. "My long-term goal is to weigh 200 pounds again. I want to walk up the stairs to Dr. Elam's office without stopping to catch my breath. I want to be able to fit behind a steering wheel so I can drive. I want to wear blue jeans again."
Marisue is confident he will reach his goals. "He follows through on all my suggestions," she says. "David is an inspiration to me and to other people who are working hard to lose weight."