St. Luke's President's Awards Honor Physicians, Staff, and a Special Guest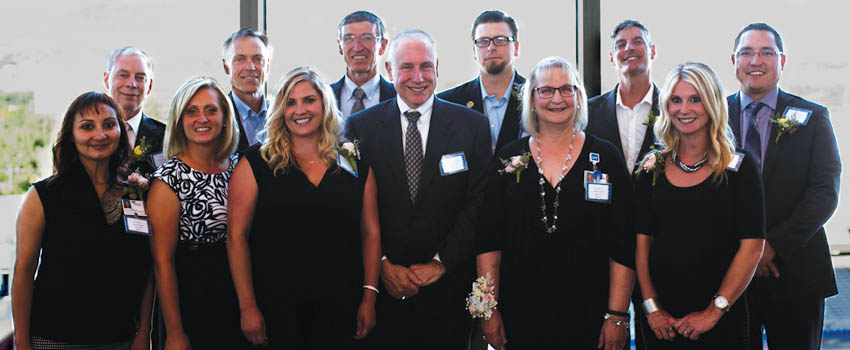 2015 President's Award winners with CEO Dr. David Pate.
By Sandra Forester, News and Community
St. Luke's Health System President and CEO Dr. David Pate recognized 11 physicians, nurses, and other team members at a Monday night President's Award banquet and party filled with emotion and jubilation.
And a very special former nursing student received the cap and pin her classmates graduated with – more than six decades ago.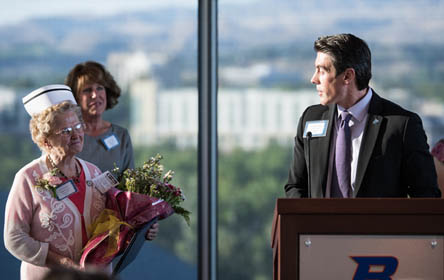 Maxine Pfeiffer enrolled in St. Luke's Hospital Nurses' Training School in 1947. The program ended for her three weeks before graduation in 1950, when she married William Huckstep. During a special cap-and-pin ceremony at the Monday awards event, Maxine Huckstep returned to the company of St. Luke's clinicians, earning a standing ovation, a document proclaiming July 20, 2015 as "Maxine Pfeiffer Huckstep Day" in Boise, and an honorary diploma before dozens of bouquet-bearing family members who were in on the surprise.
Each year, Dr. Pate recognizes St. Luke's team members nominated by colleagues for their exemplary demonstration of the organization's values and their commitment to the organization's mission to improve the health of people in our region.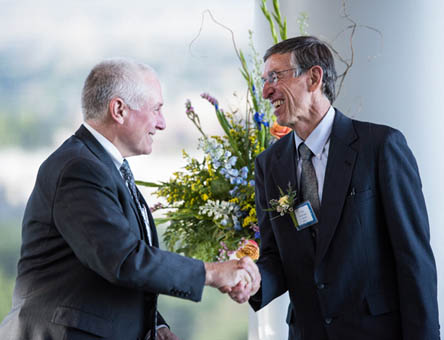 Dr. David Pate, left, congratulates Lyle Nelson of St. Luke's McCall, a 2015 President's Award recipient.
The 2015 President's Award recipients are:
Dan Fairman: Physician, St. Luke's Clinic – Internal Medicine, St. Luke's Wood River
Ruby Garcia: Bilingual Outreach Coordinator, Center for Community Health, St. Luke's Wood River
Stan Hall: Nurse Practitioner, St. Luke's Palliative Care
Erica Helmick, R.N.: Quality and Patient Safety Senior Manager, St. Luke's Treasure Valley
Scottie Kafka, R.N.: Clinical Support, St. Luke's Treasure Valley
Heather Kamper: Unit-Based Clinical Educator, St. Luke's Boise
Matthew Morishita: Senior Manager, Patient Financial Services, St. Luke's Health System
Waj Nasser: Physician, St. Luke's Clinic – Capital City Family Medicine, St. Luke's Treasure Valley
Lyle Nelson: Director of Community Relations and Health Promotions, St. Luke's McCall
Terri Schutz: Administrative Assistant, Physician Services, St. Luke's Magic Valley
Etta Wood, R.N.: Clinical Supervisor, Surgical Services, St. Luke's Wood River
Contact: Roya Camp, PR/Communications, 381-6124 or [email protected]