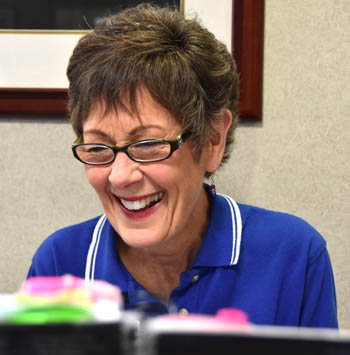 Idaho ranks second in the nation when it comes to volunteerism. St. Luke's volunteers, however, are second to none.
Across St. Luke's Health System, a volunteer force some 1,000 strong donates time, talent and treasure to help ensure a wonderful experience for St. Luke's patients and families, staff members, physicians and everyone else who comes through the doors.
St. Luke's volunteers last year gave a combined total of 147,000 hours, cashiering at gift shops, delivering flowers and newspapers and helping visitors in the surgery and critical care waiting areas. They knit booties, make teddy bears and provide respite for families facing terminal illnesses.
"We have volunteers in the roles that we do because people with the volunteer spirit have a drive to give and an inner belief that volunteering is the rent we pay for our time on this earth," said Renee Zerwas, St. Luke's Treasure Valley director of volunteers. "These are the right people to fill those vital roles."
In some cases, they're not just the right people, they're the right pooches. At St. Luke's Wood River, Tom Watson and his dog Fischer Rose have been honored as volunteers of the year. The two have "brought great joy to countless patients, family members, and staff," said Deb Hobart, director of volunteers. "They exemplify St. Luke's mission and vision, and we are truly grateful for their service and commitment to the patient experience."
Every Tuesday morning, Susan Block lifts spirits by playing the piano at St. Luke's Mountain States Tumor Institute (MSTI) in Boise. Susan, a former music teacher, lost her husband to cancer. For the past six years, MSTI visitors have enjoyed her musical volunteer contribution. (Watch this video to see her in action during a recent performance at MSTI.)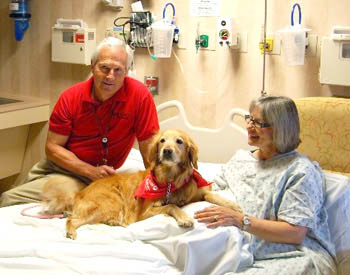 St. Luke's Auxiliaries are made up of volunteers who help provide funding for programs, services and equipment that promote health and improve the quality of life in St. Luke's communities. Last year, the Magic Valley, McCall, Treasure Valley and Wood River auxiliaries donated a total of $928,000 to the organization.
Donations came from St. Luke's gift shop and thrift shop proceeds, special events and programs such as the Wood River Winter Gala and the Boise and Meridian Art Halls. Last year, the funding was used for everything from an outdoor play area for children with cancer to integrative therapies, a community care clinic and a patient assistance fund for people struggling to make ends meet.
Volunteers give freely of their time for some very special reasons.
Sandy Novick, a St. Luke's Magic Valley volunteer since 2006, has been hospitalized more than 80 times and understands firsthand "the feelings and anxieties, the fears and the unknowns."
"Volunteering for St. Luke's is more than a responsibility; it's an aspiration," said BreAnna Flores, a former Junior Volunteer and current college student. "I want to be the person who makes a difference, the person who makes it better."
Learn more about volunteering at St. Luke's.