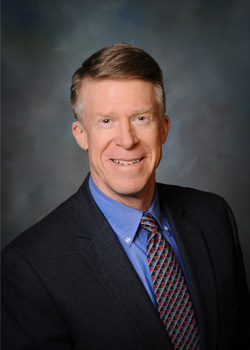 Philip A. Johnson, a collaborative and visionary leader with more than 30 years in Human Resources, including nine years at an innovative East Coast health system, has been named chief human resources officer for St. Luke's Health System.
Most recently, Johnson was the system vice president and chief human resources officer at Eastern Maine Healthcare Systems, a health system of similar size as St. Luke's.
"St. Luke's conducted an exhaustive national search to find a candidate who would best fit the organization's values, strategic vision, and culture," said St. Luke's Chief Financial Officer Jeff Taylor. "Johnson received the wholehearted endorsement of St. Luke's executive team."
Johnson's strengths include collaboration, process improvement and standardization. He believes his previous experience with Eastern Maine Healthcare Systems' involvement in the Centers for Medicare & Medicaid Services' Pioneer ACO program will be beneficial in his new role.
"St. Luke's is a great organization on the same journey to excellence as other leading healthcare systems," he said. "I am looking forward to working with the HR team to continue building a strong human resources HR function that is value added to the organization and supports great patient care."
In his new role, Johnson will oversee St. Luke's benefits program, organizational development, leadership training, HR compliance, consumer engagement and wellness, as well as special program development such as succession planning and compensation.
In addition to expertise in HR and leadership, Johnson also has experience as a six sigma green belt in quality improvement, a certified executive coach, and is qualified in Myers Briggs Type Indicator.
Johnson received his bachelor of science degree in business administration from the University of Denver and his master's of science in organizational behavior from the University of Hartford. He began his professional career in the financial services industry, which enabled the Johnson family to live in London and travel throughout Asia and Africa.
Johnson developed an appreciation for health care from his father, a physician and chief of staff at several hospitals.
Johnson and his wife, Wendy, are looking forward to their move to Idaho and being closer to family living in the Intermountain West.
Johnson is eager to take on his new role and advancing the goals of St. Luke's. Earlier this fall, he attended a St. Luke's senior leadership retreat.
"It seems like a really good fit and I felt right at home," he said. "I would like to emphasize the values of St. Luke's and how we can use those to continue to make it the best place to work in Idaho."