Meet Pearl. Pearl was born on December 14 at 6 pounds 11 ounces. Hours later, she received her first bath and a new warm winter hat.
Her brand-new handmade Christmas hat is thanks to Jeanette Cain, a nurse at St. Luke's Magic Valley who works in Postpartum, Labor and Delivery.
Cain's passion for crocheting began 10 years ago.
"It started because I make blankets and hats for my co-workers' babies. When my kids were little, I had people who made them blankets and they just mean more," Cain said. "Honestly, I started making the hats for my patients. You build a bond with the patients. I get really close with my patients. The other nurses enjoyed them so I started making more for their patients."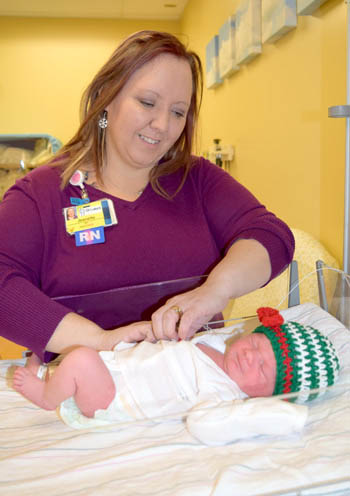 The holidays hold a special place in Cain's heart since her husband was born on Halloween and two of her three children were born on Easter.
Cain crochets for all of the holidays. However, Christmas is one of Cain's biggest holidays. For December, Cain made 115 hats for patients. This year, she crocheted Santa Claus hats, elf hats, snowmen, gingerbread men and reindeer.
Crocheting these hats takes time and dedication. In fact, each hat takes between 45 minutes to 1 ½ hours.
So why spend her free time crocheting for babies that she may never even meet?
"It's really relaxing for me," she said. "I really enjoy it. Even if I am watching TV, I am crocheting hats. When we are travelling, my husband laughs because I'm in the car and I am always crocheting."
She said it's worth it. And, the feedback from patients is amazing.
"I hear really nice things. I had one patient on Halloween that was upset about being at the hospital. I made her baby a witch hat and she cried when I gave it to her. The patients really seem to like them," Cain said.
And, when baby Pearl's family first met Cain, they recognized her as the "hat lady." Not only did they thank her for spending time crocheting these lovely hats, but they asked for her pattern.