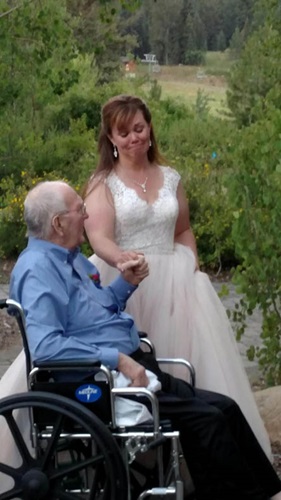 After more than a year spent battling a variety of illnesses, it looked as if longtime Cascade resident Gary Young wasn't going to attend his daughter's wedding July 3. But an unexpected burst of energy from Young and quick action from his St. Luke's McCall caretakers combined for a day he'll never forget.
Young suffers from necrotizing pancreatitis and has spent the past 14 months in a variety of hospitals receiving treatment. His type of pancreatitis causes a severe infection with serious complications that require multispecialty involvement.
Young has been in and out of the intensive care unit, including five stays in the critical care unit at St. Luke's Boise. He also has spent time rehabilitating and recuperating at Cascade Medical Center.
As a consequence of his condition, Young developed ongoing respiratory issues and a swallowing disorder. After his most recent stay at St. Luke's Boise, he was transferred to St. Luke's McCall in June to continue recuperating and working to regain his strength, in addition to receiving the necessary therapy provided by Carrie Kyrias, a speech language pathologist, to strengthen the muscles in his throat.
Young was admitted to the swing bed program at St. Luke's McCall. The program is designed for patients transitioning from an acute level of care (recovering from surgery or an illness) to a skilled nursing or rehabilitative level of care. It's a short-term option that enables patients to heal and regain strength for a safe return home.
As Angie's wedding day approached, Young wasn't feeling very well. He and his family ultimately decided Young shouldn't attend the wedding in person, and they made arrangements for him to be view it via Skype.
But Young had a burst of energy on the day of the wedding. He called his daughter and told her he wanted to attend in person. When he told his plans to St. Luke's McCall Registered Nurse Christy Woneberg, she jumped into action.
"At first we thought something was wrong," fellow nurse Camerin Saleen said. "When Christy returned from his room, she was bustling about the nurses' station. When she told us Gary was going to the wedding, there was no hesitation, we all jumped in to help."
Dr. Dave Hall was called to get his approval, the necessary paperwork was prepared, and the medical equipment and needed supplies were readied.
The only thing left to decide was what to wear. A family member who was going to be with Young at the hospital to help with the Skype connection had an extra dress shirt in his car, and off they went.
"It was great to see my daughter get married and visit with family and friends," Young said. He also attended the open house and reception the following day.
"All the nurses at the hospital were so caring," Young said. "I can't say enough about the outstanding care I received."
Young has since been discharged from the hospital and returned home.
"It's been hard being away from home and work," said Young, whose family has run the Cascade Auto Dodge dealership for more than 70 years. "I'm anxious to get back and have contact with the customers again."