St. Luke's Pulmonary Nodule Committee: 'An Outstanding service to our patients...'
By Dr. David C. Pate, News and Community
Many hospitals and health systems talk about the Triple Aim, which for St. Luke's is better health, better care, and lower costs.
How many of them are really making investments in health, for which they are not compensated, and how many of them are making serious efforts at reducing costs, if doing so reduces their own revenue as a result?
St. Luke's is. Our pulmonary nodule committee, one of the many services we have developed as we shift healthcare delivery, is an innovative approach to making the evaluation of lung nodules seen on chest X-ray or other imaging studies much more expedient, much more expert, and much more convenient. It improves care and lower costs, though the cost savings are through avoided physician visits and additional imaging or procedures for which we would otherwise be paid.
Why would St. Luke's do something that was against its own financial interests? It is because we have committed to leading the way in transforming health care, and because St. Luke's is our state's only Idaho-based, locally-governed health system and we have committed to make care more affordable for those we are privileged to serve. These approaches also prepare us for the future, when the reimbursement system will support those who keep people healthy and deliver cost-effective, evidence-based healthcare services.
I am so proud of this program. Read the report from blog editor Roya Camp.
St. Luke's pulmonary nodule committee is scoring the goals of better health, better care, and lower costs by questioning some fundamental practices.
Thinking about a new approach to a relatively common potential concern – pulmonary nodules, small growths or spots on the lung – started several years ago locally and nationally. Simply speaking, increasingly sophisticated imaging technology has meant more and more irregularities can be seen, whether or not they need medical attention.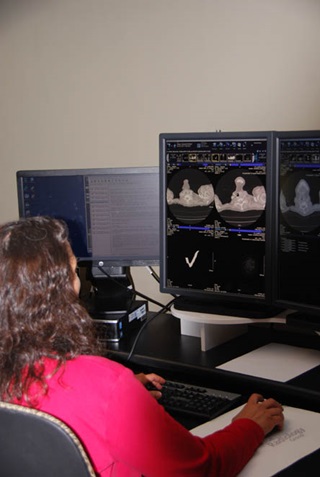 As with medical colleagues elsewhere, St. Luke's physicians began to wonder whether it was really necessary that many patients with debatable X-rays move on to, in many cases, ultimately unnecessary consultations with specialists involving expensive face-to-face visits. Most small pulmonary nodules are benign, marks thought to be nodules might not be, and false positives are routine.
There was also the point of entry into the health system for many of these patients to be considered. Very often it was the emergency room physicians who first came across these questionable spots on X-ray films, when patients came into St. Luke's Health System through the emergency departments. Physicians doing emergency medicine aren't in an optimal position to assess the sorts of needs involved with pulmonary work, given the conditions and situations in which they work.
St. Luke's physicians wondered if there was a more reasonable way to look at these cases. Could evaluation be expedited, management of suspicious lesions be streamlined, and time and expense saved?
In 2011, St. Luke's created a pulmonary nodule committee (PNC) with a chest radiologist, pulmonologist, thoracic surgeon, and nurse practitioners, to provide expert consultation, follow-up evaluation, and treatment of incidental chest imaging findings. Cases were reviewed daily to determine the level of urgency and to arrange elective or urgent follow-up.
For more than three years now, the team of St. Luke's providers – Dr. Matthew Schoolfield, surgical director of St. Luke's Thoracic Oncology program and cardiothoracic surgeon; Dr. Einav Shochat, a radiologist with specialized training and expertise in chest imaging; Chrissy Duncan, RN, and Ron Sandow, nurse practitioner; and Dr. Oleg Kouskov, a pulmonologist with St. Luke's Clinic – Idaho Pulmonary Associates – have met weekly to review about 10 cases of pulmonary nodules where referring providers have requested expert advice. It's a timely, speedy, no-fuss discussion – and it's resulted in significant if somewhat intangible reductions in wasted time, wasted effort, and wasted resources.
Early findings show their hunch was a good one; many patients in fact did not need further investigation of the CT findings.
For example, in 2014 they reviewed close to 300 cases. They recommended follow-up CT scan in 57 percent of the cases, pulmonary consultation in 22 percent, no follow-up in 13 percent, other diagnostic testing in 2 percent, and thoracic surgery referral in 7 percent. Before the committee was established, many of those cases might automatically been referred for specialty consultations and additional tests, including unnecessary biopsies.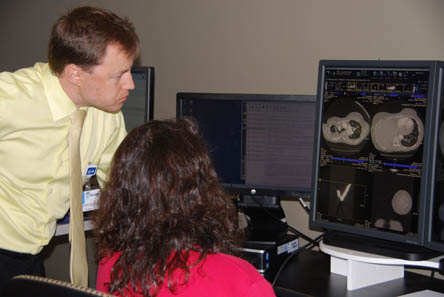 Dr. Oleg Kouskov, a pulmonologist with St. Luke's Clinic - Idaho Pulmonary Associates, and Dr. Einav Shochat confer during the committee's meeting.
In the majority of cases, patients have been appropriately referred back to primary care physicians for care and monitoring, rather than on to specialists, where care would have been more expensive and might not have added significant value.
Dr. Kouskov and the committee are working to pinpoint savings, which often come in the form of specialty consultations not conducted and the efficiency that comes with keeping unnecessary appointments off the books, freeing specialty clinicians for critical work.
Precise savings are going to be difficult for the team to pin down, because each patient's diagnosis, additional tests, and treatment would have been different, and there is no telling what was saved in the case of procedures that did not happen, specialists that were not seen, and the like.
The clinic medical staff will try to quantify and document the value of the new approach and set up mechanisms to track patient outcomes. They are interested in exploring whether their approach should become the standard of care, both within St. Luke's Health System and more broadly.
Dr. Kouskov and his colleagues, who originally shared word of their willingness to take on the additional review through word of mouth at meetings of St. Luke's medical departments, have found support from physicians across St. Luke's Health System, including among the emergency room physicians whose complicated work they initially sought to simplify and among internists, another physician population they sought out early in their effort. He and the group also have appreciated the support they've received from St. Luke's administration as they have worked to establish the service.
"It likely saves costs, for the insurance companies, for the patients," Dr. Kouskov said. "And we hope it's very useful for the other physicians. Emergency room and primary care providers work very hard in our System and we want to help them as much as possible to manage incidental findings on the chest imaging by sharing the responsibility in decision-making and putting expert advice just a phone call/email away. "
Informal surveys indicate that the committee's work is being well-received. Among the remarks the team received through a recent anonymous poll of emergency department, internal medicine, and family practice physicians and clinicians were these observations:
"Patients and I like that they don't have to go to extra appointments just to have someone look at a CT scan but reassuring for me that they are getting appropriate care. I appreciate the collaborative care with the specialists and how helpful/accessible it is."
"Traveling often is a hardship for our patients coming from rural Oregon. The expert advice has helped me have much more confidence to manage my patients locally without unnecessary travel."
"This is an outstanding service to our patients, and to me as a primary care provider."
"When I explain this service to the patient, they are incredibly reassured to know a specialty team will be reviewing their case."
Mary Mebane, a certified physician assistant at St. Luke's Clinic – Internal Medicine Parkcenter, heard about the committee and how referrals could be made to the team through St. Luke's electronic medical records when Dr. Kouskov made a presentation at one of the regularly scheduled clinic meetings about a year ago.
She's made several referrals to the committee over the past year.
"They even volunteer: 'Do you want us to take it from here? Do you want to repeat in six months? Do you want us to take this one?'
"They're very responsive," Mebane said, "and it's just such a relief to have this available. It does improve patient care."