St. Luke's Nampa Hospital Breaks Ground Aug. 5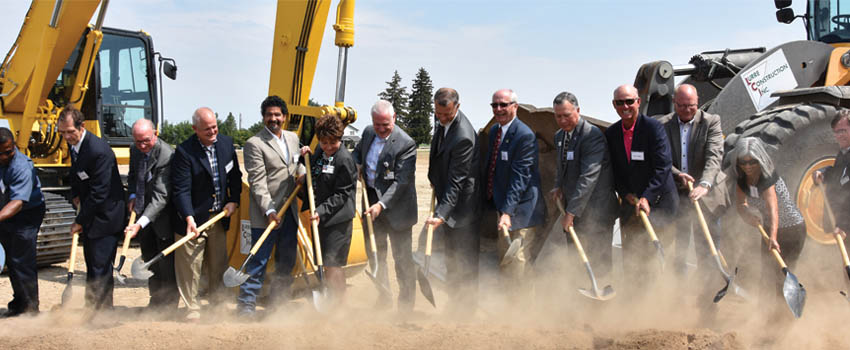 Board members, staff and community leaders turn the dirt. From left are Dr. Bayo Crownson of St. Luke's Family Medicine, Jerry Hess, Doug Houston, Bill Deal Jr., Chris Veloz, Kathy Moore, Dr. David Pate, Ed Castledine, Mayor Bob Henry, Rick Youngblood, Paul Lodge, David Bills, Estella Zamora, Bill Russell.
By Sandra Forester, News and Community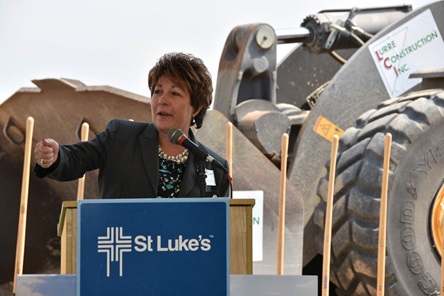 Kathy Moore, St. Luke's West Region CEO, talks about her roots in the community and her desire to bring services closer to home.
Community leaders and representatives from St. Luke's Health System celebrated the expansion of St. Luke's Nampa at a groundbreaking ceremony Aug. 5.
"It's really important for me to bring care close to home," said West Region CEO Kathy Moore, who was raised in Caldwell.
About 60 people attended the ceremony, including Nampa Mayor Bob Henry and St. Luke's Health System President and CEO Dr. David Pate.
"We are proud to be Canyon County's preferred provider," Pate said. "It's clear that residents want choices."
Moore also introduced Ed Castledine as the new administrator of St. Luke's Nampa. Castledine has worked for St. Luke's for more than 10 years and is the administrator of St. Luke's Ortho/Neuro.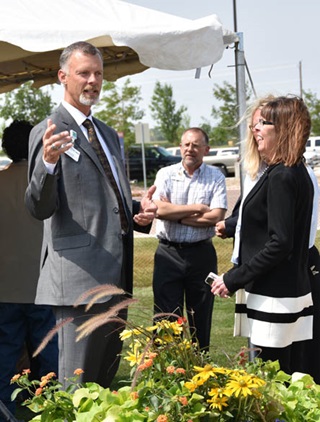 Moore noted his deep roots in the Nampa community. Castledine was raised in Nampa and is a graduate of Nampa High School.
"He is uniquely positioned to lead our next phase of care in Nampa," Moore said.
The $96 million expansion will provide additional space for new services at the hospital, including three floors with 76 patient rooms, a newborn intensive care unit, children's services with outpatient sub-specialists, additional heart services, and an intensive care unit. The expansion will be complete by the fall of 2017 and will also include:
Obstetrics and women's services
Medical imaging
Advanced cancer services
Nampa's hospital will also include seven family suites. The special rooms allow a new mother to stay with her newborn and other family members, giving the family an opportunity to experience enhanced bonding, communication and nurturing. The family suites will be the first of their kind in Idaho, said Paul Lodge, chair of St. Luke's Canyon Community Council and a long time Canyon County resident and rancher.
"We especially need philanthropic support for 3D mammography and neonatal services," he said. "The Community Council has set a philanthropic goal of $2.6 million."

Mayor Bob Henry said his family recently used the services at St. Luke's Nampa when his 86-year-old mother was admitted to the Emergency Room.

"The quality of care was unbelievable," he said.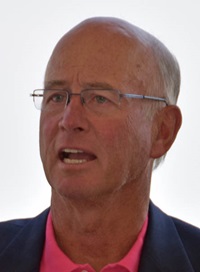 Paul Lodge speaks to the crowd at the groundbreaking.
But the three primary benefits to the community from the new hospital are almost $100 million in capital investment, the high-paying jobs and a state-of-art facility, Henry said.
"I can't tell you how proud and excited I am because you chose Nampa," he said.

The Canyon County population is predicted to increase to 241,000 people by 2024. This expansion will allow St. Luke's to serve the growing population and also expand the range of services currently available. One in four patients at St. Luke's Meridian is from Canyon County, and 23 percent of people needing hospitalization are admitted to either St. Luke's Meridian or St. Luke's Boise.
St. Luke's Nampa opened its medical plaza in 2012 with a full-service, 24-hour emergency department, laboratory services, diagnostic and imaging services, medical office space, and outpatient services.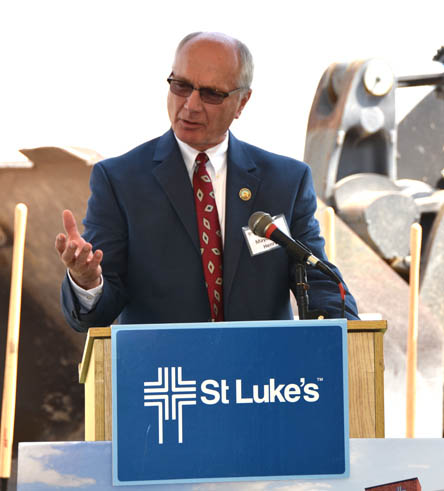 About St. Luke's Health System
As the only Idaho-based, not-for-profit health system, St. Luke's is a vital part of the communities we serve, with local physicians and boards who further our organization's mission, "To improve the health of people in our region." Working together, we share resources, skills, and knowledge to provide the best possible care at each of our hospitals, clinics, and centers.

St. Luke's is nationally recognized for excellence in patient care, with prestigious awards and designations reflecting the exceptional care that's synonymous with the St. Luke's name.