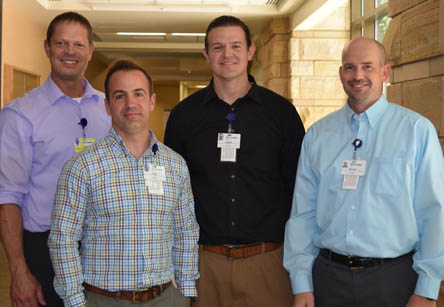 Idaho State University Physician Assistant students wrap up the year. From left are Todd Woodward, Todd Thorne, Jacob Larsen, Terrick Harrild.
It's the end of the academic year for three Physician Assistant students at St. Luke's Magic Valley.
Terrick Harrild, Todd Thorne and Jacob Larsen completed a two-year master's program through Idaho State University.
The Physician Assistant (PA) Program at ISU awards the master's degree of Physician Assistant Studies and a PA certificate upon successful completion of its 24-month graduate curriculum.
Three students are chosen by lottery to be a part of the St. Luke's Magic Valley Rural Training Track. This is the second year in existence for this one-year program, which ended on July 31.
As a part of the program, students spend their second year working with St. Luke's providers and other community providers. Students participate in eight rotation blocks. Each rotation lasts for five weeks.
There are seven required content areas which include Internal Medicine, Outpatient Medicine, Obstetrics and Gynecology, Pediatrics, Emergency Medicine, Surgery and Psychiatry. One rotation is an elective.

The program allows students to rotate within St. Luke's Magic Valley and St. Luke's Jerome for a 12-month period, while in other programs, students may be rotating to different medical facilities more frequently.
"For me, it's been a great experience to be able to rotate in one area and see a variety of individuals and be able to build relationships with them. It has been a great learning experience," said Todd Thorne, PA ISU student.
It's a great experience outside of the hospital walls as well.
Students are encouraged to volunteer their time at the Wellness Tree Clinic, a nonprofit organization in Twin Falls. The Clinic offers free acute and short-term regular medical care for those at or below the poverty level and with no medical insurance or other resources.
Students, with provider's assistance, are able to spend time with patients twice a week in the evenings.
"We were able to see our own patients and come up with our own plan. We write our own dictation notes and we get it signed off by the doctor," said Jacob Larsen, PA ISU student. "In some realms, doctors have a time limitation. They don't have the time to listen to your full patient presentation so they want to get the quick jest of things. In the free clinic, you can take all of the time that you need to give your presentation, and then go with that plan or to change that plan."
Another reason Larsen enjoyed volunteering in the Wellness Tree Clinic was caring for patients during a full year.
It's a sentiment echoed by the other students as well.
Terrick Harrild, PA ISU student said, "It has been really excellent in integrating what we have learned and putting rubber to the road and incorporating that into treating patients. It has been a really great experience in learning how to do that."
For the executive director of the Wellness Tree Clinic, Arne Walker, these volunteer efforts are invaluable.
"The majority of volunteer providers are from St. Luke's and most of them truly enjoy the opportunity to invest in, teach and mentor the medical students that volunteer here at the Wellness Tree Clinic," said Arne Walker, executive director, Wellness Tree Community Clinic. "After our evening clinics, students and physicians will often hang out in the clinic discussing the health problems that they saw and different patient treatment options. It is fun to see the trusting relationships that grow here over time. These students become much better providers because of the knowledge poured into them by our medical community here in Twin Falls."
Three new PA ISU students start the program on August 24.
As these students enter the doors at St. Luke's, those departing offer advice.
"I would say this is by far one of the best opportunities that they could have. Having the best preceptors and the excellent opportunity to work in the community and provide a service that they wouldn't normally be able to do," said Harrild.
The students are also saying "thanks" to St. Luke's. Click here to view a video.
ISU does send other PA students who are not in the track to do individual rotations, such as Todd Woodward. Woodward also spent time at the Wellness Tree Clinic, an experience that he is grateful for.
"Independently, we get to think through the problem and work with the patient and then have the backup of the preceptor there to make sure that we can talk through and to make sure we are on the right track," Woodward said.