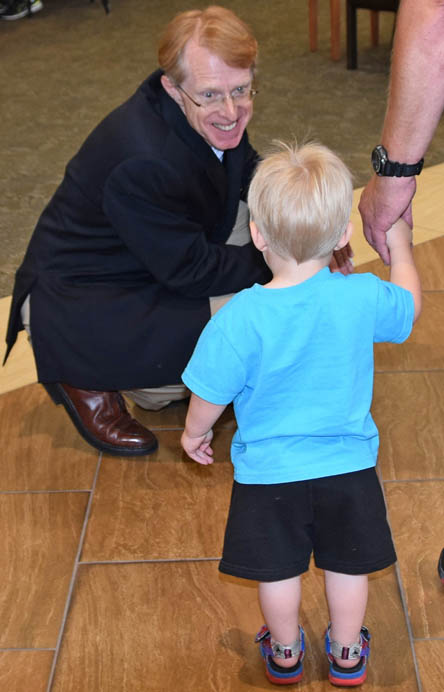 Bruce Jensen, director of planning and development for St. Luke's east Oregon and west Treasure Valley, chats with one of our youngest visitors during a tour.
Residents and staff members celebrated the one-year anniversary of St. Luke's Fruitland with an open house and tours Thursday, Aug. 6.
Hundreds of people young and old came in to see the facility and talk to staff.
"People come to us from rural areas beyond Fruitland because this is the closest location for care," said Sean Hackett, Fruitland director of operations. "We see people from throughout Idaho, Oregon and even Washington."
In just one year, St. Luke's Fruitland has had more than 20,000 patient clinic visits, 12,000+ ER visits, 21,000+ lab visits, and 14,000+ diagnostic imaging visits.
Additional services will soon be added, including:
Nuclear medicine with state-of-the-art imaging technology to diagnose and determine the severity of a variety of diseases.
A permanent home for the MRI instead of a mobile unit.
New children's services — pediatric pulmonology and urology specialists.
St. Luke's also is raising funds for a respite house that will serve people traveling long distances to receive care in Fruitland.
To talk to someone about helping with a gift, click here.
To make a gift now, click here.