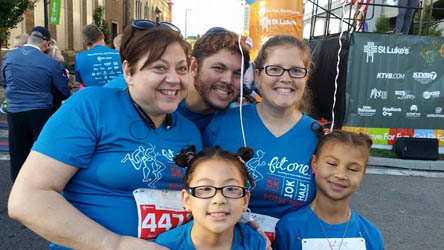 Laura Jensen of Basalite Concrete Products in Meridian is shown here with her son, KG, his wife, Angee, and their daughters, Flower and River, at the FitOne start line in 2014. Jensen plans to join her family to walk at FitOne again this year.
A healthy lifestyle is part of the culture at Basalite Concrete Products of Meridian, and for the second year, employees and their families will participate in September's FitOne walk/run. FitOne benefits St. Luke's Children's Hospital.
"It helps promote health," said Laura Jensen, the company's finance and administrative representative. "We need to get moving because we sit so much. Kids really need something, too."
Participation also takes $5 off of the insurance cost for Basalite co-workers.
Basalite is one of about 30 Idaho companies of all sizes that have signed up for the FitOne Corporate Challenge. Others include Micron, MWI Veterinary Supply, Western States Equipment Co., and Power Engineers.
Companies can sign up in one of six categories based on size, and win prizes for the highest percentage of company participation. The winning team captain in each category wins a three-month membership to Axiom Fitness.
Winning company names are announced on a big screen at the FitOne Healthy Living Expo Sept. 24-25 and at the start lines of the FitOne 5K, 10K and Half Marathon. And the first-place team in each category receives recognition in a full-color print ad in the Idaho Statesman.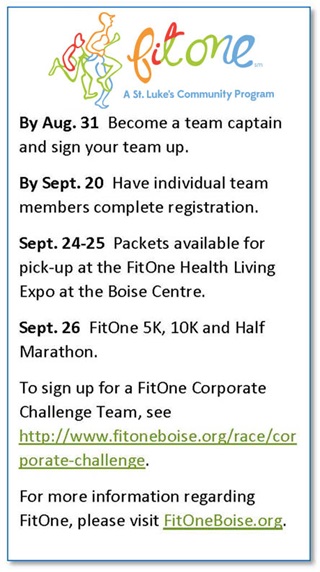 The goal of the Corporate Challenge is to improve employee health and wellness while team-building. SelectHealth, a not-for-profit health insurance organization serving members in Utah and Idaho, is sponsor of the Corporate Challenge.
"The FitOne Corporate Challenge is an easy way to build camaraderie while improving your health in a fun environment," said Marnie Packard, SelectHealth manager of community and government relations.
FitOne continues to evolve as a year-round platform providing resources and opportunities to support active, healthy living 365 days a year.
"At FitOne, our mission is to build healthier communities through fun, active living," said FitOne Director Heather Hill. "Each and every one of us can strive to be a positive role model for our families, friends, and co-workers; and if we can each inspire one healthy habit along the way, imagine what a difference we can make collectively."