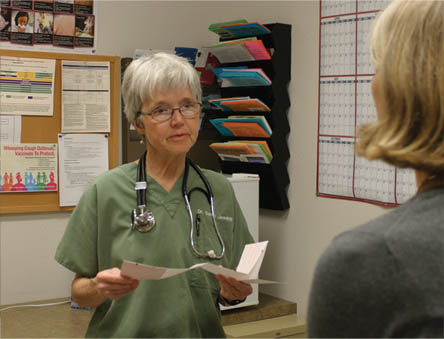 The Community Care Clinic, which has provided free health care to the medically underserved since 2008, will close May 1.
"Working with the patients at the Community Care Clinic has been such a joy. They just feel so much gratitude for their care," said Dr. Jennifer Gray, a family medicine physician who volunteered at the clinic and served as a liaison between St. Luke's McCall and the free clinic at 703 N. 1st St., McCall.
Clinic founder Dr. Sarah Jessup identified the need for a free clinic in 2007, when the area was hit hard by the economic downturn. At the time, unemployment surged close to 20 percent, and the number of people who were unable to afford medical care also rose.
Because of the dedication and compassion of Jessup, Dr. Margaret "Maggie" Rosenthal, and others, the clinic operated entirely with volunteer healthcare professionals and support staff.
When the free walk-in clinic opened, it served patients one evening a week, on a first-come, first-served basis. It didn't take long to change to an appointment-only model to accommodate the more than 20 people who sought care each week. Physicians volunteered extra hours on a second day to see patients whose medically complex issues required lengthy appointments.
The landscape of healthcare has been changing since the Community Care Clinic opened. Many people who had been receiving regular care at the free clinic have acquired health insurance through Your Health Idaho, the health insurance exchange available since 2014 through the Affordable Care Act. This has reduced the number of patients being served at the free clinic.
But patients who still use the free clinic aren't losing their access to health care. They'll be transitioning to care offered at primary care clinics of their choice.
To support patients seeking care at St. Luke's Clinics in McCall, New Meadows, and Riggins, hospital and Community Care Clinic leaders have been working together to develop a transition model that meets patient needs and provides access to ongoing health care.
"Several things had to happen to get to this point. The most important goal always is to make sure that everyone in our community receives the care they need, when they need it," said Mike Fenello, hospital administrator.
"We knew that we'd be seeing a lot of newly insured people who might be unfamiliar with the physicians and clinics throughout the area," said Don McKenzie, St. Luke's Clinic manager. "We wanted their transition to be as smooth as possible."
To help meet the increased demand of patients choosing St. Luke's Clinics, Payette Lake's Family Medicine added two physicians—Drs. Jon Currey and Patrick Kinney—and three permanent physician assistants—Rich McChrystal, Anna Kinney, and Jessi Smith. This allowed the clinic to extend its hours to include evenings and Saturdays, and to offer more same-day appointments.
Both St. Luke's and the Community Care Clinic are not-for-profit organizations. "We can help patients use many of the same resources and programs they are already familiar with. In addition, we can introduce them to more resources through our financial assistance and charity care programs," McKenzie said.
The efforts to serve Community Care Clinic patients don't end there. St. Luke's McCall also hired Lindy Carr as a full-time patient navigator. Carr helps to connect patients with resources and financial aid to help ensure they can access the care and prescriptions needed to treat their medical conditions.
Augmenting the patient navigator services is a new care-coordination program that began in June 2014, when St. Luke's McCall Foundation received a grant from the Cambia Health Foundation. The program is directed at patients who typically have sought medical care through the free clinic or the emergency department.
The role of a care coordinator includes helping patients identify a primary care doctor who will manage their care; aiding patients in scheduling appointments with specialists; and educating patients about their medications and treatments.
"Our first priority was working with Community Care Clinic patients. Since we opened, we've been able to ease people's transition into traditional health care and provide support in any way we can," said Shannon Nelson, RN, who shares the care coordinator role with Jen Stahlberg, RN.
Like several other St. Luke's employees, Nelson volunteered at the Community Care Clinic and knew many patients who now get care through St. Luke's.
Reflecting on the Community Care Clinic closing, Jessup said, "The support we have received over the years has been gratifying. We started the free clinic because we care about people's health, and we'll miss seeing the patients. But we're happy they now have access to full-time medical care."