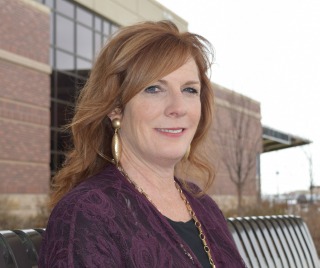 It took the removal of a 5 centimeter mass (equivalent to the size of a lime) in the cecum of her colon for Page Geske of Twin Falls to become a community advocate for colon cancer screenings.
Geske, 51, had no idea that she was living with stage 2 cancer. She didn't notice anything wrong with her health, which is why it came as a shock to her when a routine colonoscopy turned into more.
According to the Centers for Disease Control and Prevention (CDC), colorectal cancer (cancer of the colon and rectum) is the second leading cancer killer in the United States.
Colorectal cancer affects men and women of all racial and ethnic groups, and is most often found in people ages 50 years or older.
"Colon cancer is preventable in most people," said Dr. Robert Ward, a St. Luke's Magic Valley gastroenterologist. "Screening is easy and should start at age 50 for everyone, and sooner if a person is at increased risk with a significant family history."
On Dec. 21, 2016, Geske went to St. Luke's Magic Valley for a regular screening. Geske recalled saying to the doctor afterwards, "Whew, I'm glad that's over."
What she didn't know was that it was just the beginning.
Geske's physician told her that there was a large mass in her colon that was most likely cancerous. Her doctor ordered a CT scan to look at her other organs to see if the cancer had spread. Luckily, it had not. Still, she needed surgery immediately.
"The doctor started showing me the pictures of my colon and the mass," she said. "This is four days before Christmas, and all of a sudden, you have to readjust.
"Everything that was ever important to you is no longer. I remember thinking that I didn't need to worry about stocking stuffers, instead, I needed to worry about my own health."
Geske worked with doctors and the surgery date was scheduled for nine days after she was diagnosed.
"When you understand you have cancer in your body, you want it out. I thought that the sooner I could get this surgery done, the better," she said.
Her doctor removed 10 inches of her colon, two inches of her intestine, and her appendix.
"This screening literally saved my life," she said. "The thing about colon cancer is it is very silent."
Thinking back now, Geske, who is a cyclist, can recall feeling more tired this year while training for a 100-mile road race. She had never been exhausted while exercising.
"I didn't realize it at the time, but I had pre-symptoms. I just thought I was getting older," she said. "I was wondering why I was so tired. Now, I know that I was totally anemic because I was losing blood through my tumor."
Geske was functioning with only half of the oxygenated blood that women need just to perform daily life activities.
Since her experience, six of Geske's friends who were procrastinating have visited with their physicians. Polyps have been found in a few of them.
"To me, you can't talk about it enough because you honestly don't know how you can positively affect someone's life," Geske said.
Three weeks after surgery, Geske said she feels great. She is back to her normal physical activities, including snowshoeing, hiking the canyon and indoor bike riding. She's also doing something a little different: Sharing her story with others so they can learn from her experience.
"If this helps one person or saves a life, then sharing my story has been worth it," she said. "I can't stress enough how important it is for us to use these screenings to our advantage. Yes, the preparation may be a hassle, but your life or someone else's is much more valuable than a little inconvenience because of some prep."
Cancer Awareness Seminar
Dr. Brian Berk, a St. Luke's Magic Valley gastroenterologist, will present a free seminar about colon awareness on March 28 at 6 p.m. at St. Luke's Magic Valley in the Oak Rooms (located on the lower level by the cafeteria). Reserve a space at this free event by calling (208) 814-0094.