A pilot program just completed at St. Luke's Meridian has led to dramatic reductions in the time it takes for stroke patients to get to brain-saving, life-saving, treatment. The pilot—a joint effort between St. Luke's Meridian Emergency Department, Ada County Paramedics, and Canyon County Paramedics—showed promising data after just four months.
Time is crucial in the case of stroke, to save the patient from serious disability or even death. Stroke occurs when blood flow to the brain is interrupted by a blocked or burst blood vessel. About 87 percent of all strokes are "ischemic," caused by a blood clot blocking a blood vessel. The other 13 percent are "hemorrhagic," caused by a burst, or ruptured, blood vessel. One of the key components of the Meridian pilot program was to save time by taking the stroke patient to an immediate CT scan instead of a bed in the emergency department.
"We need a picture of that brain as soon as possible," said Teresa Smith, St. Luke's Treasure Valley Stroke Program manager, "to determine if the stroke is ischemic or hemorrhagic, and get the patient to the appropriate treatment as quickly as possible."
In the case of ischemic stroke, "the goal of care is to make sure the patient receives an IV medication called tPA, which dissolves the clot, and/or interventional procedures to remove the clot, as soon as possible," Smith said. "Restoring blood flow to that area of the brain will save brain cells, which ultimately saves function for the patient."
As part of the Meridian pilot program, teams analyzed every step of the process and made changes to reduce times whenever possible. Compared to average times for the previous 12 months, the four-month trial achieved these results:
Brain CT scan times were reduced by 64 percent.
CT result times were reduced by 44 percent.
The "door-to-tPA" time for patients dropped by 20 minutes.
The "door-to-groin puncture" time for patients who were candidates for neuro-intervention dropped by 16 minutes.
These improvements are crucial. Stroke experts say "time is brain," and they mean it literally. When a stroke hits, blood flow to an area of the brain stops. The affected area begins to die—at a rate of 1.9 million neurons (nerve cells) every minute. Quick treatment is vital to limiting brain damage and increasing the chance of a full recovery.
"We're very impressed with the direction the stroke program is taking within St. Luke's Health System," said Steve Blados, Division Chief of Training and Clinical Medicine with Canyon County Ambulance District. "I hope direct-to-CT can be implemented throughout the region, so everyone has access to the fastest, most effective treatment."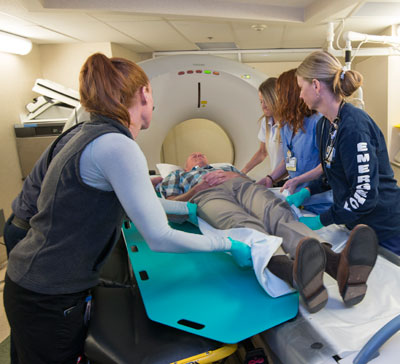 The direct-to-CT approach is often referred to as the "Helsinki model," since physicians in Helsinki, Finland were the first to pioneer this approach. Since then, direct-to-CT has been replicated around the world. It has been shown to improve patient outcomes, and the Meridian pilot program bears this out. The protocol is now the standard of care at St. Luke's Boise, Meridian, Nampa, and Fruitland, in partnership with area emergency medical services (EMS) agencies.
"Direct-to-CT allows for improved collaboration with EMS," Smith said. "Our Nampa emergency department recently had a patient who got an immediate CT scan, which showed a cerebral artery occlusion. The same Canyon County Paramedics team that delivered the patient to the emergency department was then able to transfer him downtown for neuro intervention. Because of this improved coordination, the patient made a full recovery."
St. Luke's stroke teams continue to shave off minutes wherever they can: A few minutes off the transport time. A few minutes' notice so hospital emergency and stroke teams are ready when the ambulance arrives. When a patient is at a smaller hospital, they may be able to undergo a CT scan and receive tPA from the local hospital's emergency department before being transported to a larger hospital. Flight nurses and medics can then maintain the tPA infusion en route. Every minute skimmed off adds up for the patient.
Effective management of stroke requires a well-developed "system of care" that includes coordination with EMS providers. "EMS has been instrumental in the success of direct-to-CT and the improved outcomes of stroke patients at St. Luke's," said Dr. John Perl, interventional neuroradiologist. "And St. Luke's is always working to improve these processes."
But emergency stroke teams can only do their job if the public does theirs—and that means learning to recognize the signs of stroke and calling 911 immediately. Currently, only 20 percent of stroke patients arrive for help within the first two hours after symptoms are noticed, according to the American Stroke Association, which encourages the public to remember the acronym "FAST":
Face drooping: Does one side of the face droop or is it numb? Ask the person to smile—is the smile uneven?
Arm weakness: Is one arm weak or numb? Ask the person to raise both arms—does one arm drift downward?
Speech difficulty: Is speech slurred? Is the person unable to speak or hard to understand? Ask the person to repeat a simple sentence, like "The sky is blue." Is the sentence repeated correctly?
Time to call 911: If someone shows any of these symptoms, even if the symptoms go away, call 911 immediately. Check the time so you'll know when the first symptoms appeared. This is called "the last known well."
"If you're losing 1.9 million brain cells every minute during a stroke, then saving minutes is everything," Smith said. "And we expect to continue to improve these times."
St. Luke's Boise/Meridian is a Certified Primary Stroke Center by the Joint Commission and designated among the Top 5% in the Nation for Treatment of Stroke by Healthgrades. St. Luke's stroke program uses evidence-based guidelines from the American Heart Association/American Stroke Association to define best practice.