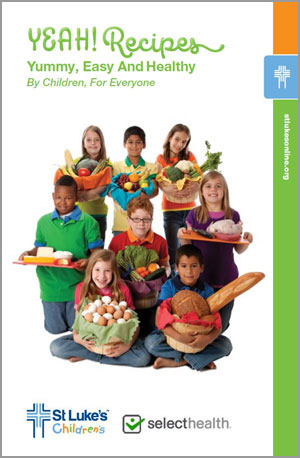 Kids in a St. Luke's Children's healthy lifestyle program are sharing what they have learned about nutritious meals and snacks in a colorful new children's cookbook available online.
The cookbook is a project of the St. Luke's Children's YEAH! program, which stands for Youth Engaged in Activities for Health. Children interested in joining the program require a physician referral; YEAH! teaches kids and families about healthy eating, physical activity, and positive behavior changes. The clinical program is offered in 12-week or 8-week sessions in Wood River, Magic Valley, Boise and Nampa. Participants learn about food groups and portions, culinary skills and fun physical activities like rock climbing and swimming.
"YEAH! Recipes: Yummy, Easy and Healthy" was inspired by a potluck celebration hosted by YEAH! participants on the final night of each session. Each child contributes a dish to share and a recipe.
"Our goal is to make healthy eating a lifelong habit," said Jean Mutchie, YEAH! program manager. "The cookbook is a great way to help kids get creative in the kitchen, to learn how to shop and make their own meals."
Recipes for power muffins, banana rolls, crisp cucumber salsa, carrot salad and other dishes were gathered over a couple of years. An intern from Boise State University helped Danielle Nebeker and other St. Luke's registered dietitians review the recipes for nutritional content.
Nebeker is inspired by the enthusiasm of the YEAH! participants. "It is fun to see how excited the students get when they get to prepare meals during class. Being able to contribute to a healthy cookbook and know that they were a part of it is a great way to boost self-confidence and help the kids feel proud of their accomplishments."
The project was a good fit for SelectHealth, which contributed funds for production of the recipe book. "The YEAH! Program is making a difference in families in our communities," said Julie Bell, SelectHealth business development and marketing manager. "This cookbook is an opportunity for us to join YEAH! by encouraging healthy lifestyles, which is fundamental to our mission."
The book was released in March in conjunction with National Nutrition Month. Dr. Mindy Gaddis plans to distribute the cookbooks to family practice physicians throughout St. Luke's.