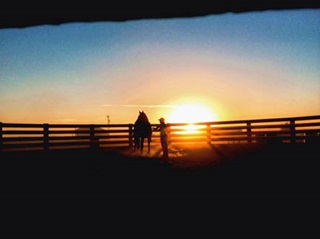 A member of the St. Luke's family recently served as a lifeline for a local man experiencing a stroke during a community rodeo. That man is now on the road to a successful recovery, and his experience shows just what a difference strong community ties and a commitment to caring make.
Kayla Ingram is a nursing director at St. Luke's Meridian, and she also happens to be a professional barrel racer (she competes in the Snake River Stampede July 14-18). Her two worlds came together in late May when she was in New Plymouth to participate in a barrel-racing event.
She was sitting on her horse waiting for her turn when she heard someone shouting to call 911. She jumped off her horse and ran to the source of the commotion, where she found a man having a stroke.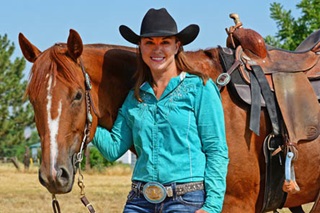 This year was Kayla Ingram's first to compete as a professional barrel racer.
Ingram flew into action, deploying the knowledge she had developed in her former role as stroke program coordinator for the Treasure Valley.
The man's symptoms indicated that he was having an ischemic stroke, which occurs when there is an obstruction within a blood vessel that supplies blood to the brain. The best treatment would be to administer tissue plasminogen activator (tPA), which dissolves the clot and improves blood flow to the part of the brain that was deprived of blood flow. Ingram realized St. Luke's Fruitland Medical Plaza was prepared to administer the treatment.
"I knew Fruitland could give him tPA," she said. "He was very eligible for that medication."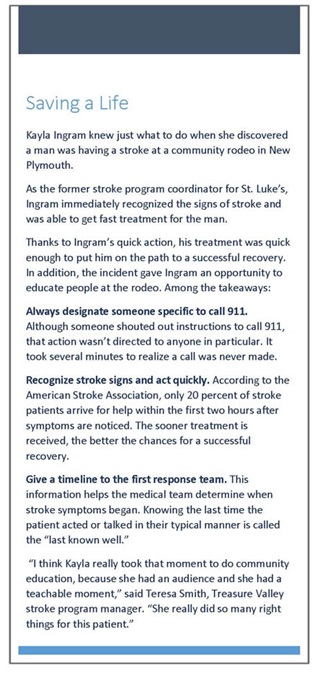 Speed was critical, because tPA should be given as soon as possible to improve a patient's chances for recovery. According to the American Stroke Association, many stroke victims don't reach the hospital in time for this treatment because the stroke isn't recognized fast enough.
The patient's wife wanted her husband to receive care in Caldwell, where their family physician was located. Ingram explained the benefit of receiving quick care, and she also convinced the family to travel by ambulance rather than their personal vehicle to save time.
As the ambulance raced to Fruitland, she called ahead and spoke with Joe Young, the Fruitland emergency department nursing supervisor, providing a detailed description of the patient's symptoms to help the team prepare for treatment.
Because of her tenacity and quick action, the man received tPA within 39 minutes, and he is now successfully recovering. The time is a significant achievement, considering that the door-to-treatment goal is 60 minutes. The team effort by Ingram, paramedics and the Fruitland emergency room staff had a significant impact on that rapid time.
Young's role is to coordinate activity within the emergency room setting. By the time the New Plymouth patient arrived in Fruitland, the staff was already in the room, ready to begin treatment.
"Having the heads-up was a nice extra bonus so everyone here could get in line and start thinking about things," he said. "Having that opportunity to ask her a couple questions helped us prepare, and everyone was on board and knew what to do before the patient ever arrived."
When loved ones experience a medical emergency, time stands still. In those moments, an act of kindness by a stranger can become a lifeline. Ingram's presence was pure coincidence, and for the patient and his family, it was a game-changer. She hadn't planned to participate that day, but she changed her mind the day before.
"Because of the quick care he received, he won't be disabled," said Teresa Smith, Treasure Valley stroke program manager.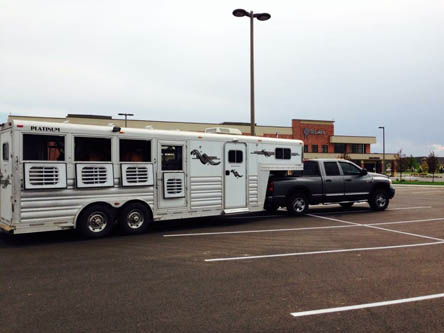 Kayla Ingram dropped by the Fruitland Medical Plaza recently to pick up a friend on the way to an event.
Luck may have played a role in what happened that day in New Plymouth, but the greatest influence in the outcome can be attributed to Ingram's education and skill, both professionally and personally, and the deep connections that she and other St. Luke's staff members have in Idaho's communities.
Ingram grew up in a rodeo family; her parents and grandparents competed in rodeos (her dad was a bull rider). She knew the patient's wife because of her involvement in the rodeo community, and she was able to connect with them on a personal level because of their common interests. Ingram delivered expert care because of her background managing the stroke program.
"If I hadn't had been in the stroke coordinator position, I wouldn't have been able to do what I did," she said.