From Joann Fractman, heart attack survivor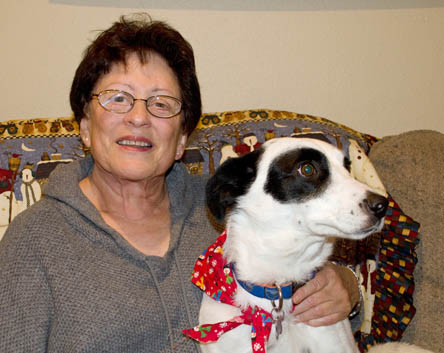 Joann had a heart attack while she was at home recovering from spinal surgery, and faces a range of health challenges including arthritis and a history of several spinal surgeries over the past five years. But the retired nursing home administrator, who moved to Idaho from California 16 years ago, does one of the most important things people can do for their health: She stays connected.
"I'm a part of several families, and have friends of all ages," she says. "I love live entertainment, going out for lunch, and going out with my friends. And of course I love my border collie."
Joann's also active in her church, where her connections are strong. "The ladies in my church looked out for me while I was recovering from surgery," she says. She teaches cooking classes at church and in the community, and cooks homemade meals for her neighbors and church members when they need it.
"My back is old," she laughs, "but my mind is young."
Cardiac rehabilitation with a personal flair
When Joann was referred to cardiac rehab following her heart attack, she was still battling pain and fatigue due to the attack and her recent spinal surgery. "I was so sick when I arrived," she says. "There were things I just couldn't do, but the rehab team took that into account. I had no idea there was a unit as wonderful and supportive."
The cardiac rehab team designed a plan that was personally tailored to Joann's unique needs due to her spinal surgery. "They not only made adjustments to the cardiac rehab program to accommodate my spine limitations," she says, "they helped make my spine better. They're the reason I'm recovering from the heart problem, and the reason I'm recovering from the spinal surgery. I'm ahead of where the neurosurgeon said I would be at this point. And I credit that to cardiac rehab."
Give from the heart.
You can give the gift of life and health to a heart attack survivor. It's as easy as making a charitable donation to St. Luke's cardiac rehab program and designating it to help cover the cost of rehab for someone with a limited income. To learn more, visit us online to donate or email [email protected]. Every gift makes a difference.