From Mary Rose Gwirtz, Heart Attack Survivor
Eat the healthiest food you can, Mary Rose Gwirtz advises. For example, many of us can't afford to buy organic produce. That's OK. Non-organic whole foods like veggies and fruit are still way better for you than processed food.
About Mary Rose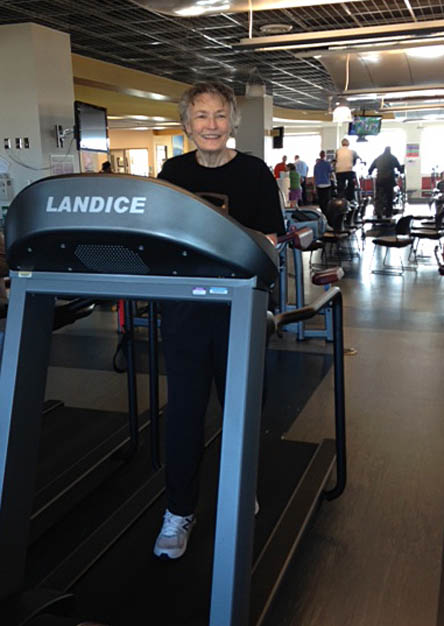 Not every heart attack is preventable. Mary Rose is a case in point. The long-time antique furniture restorer does not seem like a candidate for a heart attack. She's not overweight. She's active, eats well, and enjoys life.
"I've always been outdoorsy and active" says Mary Rose, "and I followed the Mediterranean diet before it was ever a diet."
And yet at age 71, Mary Rose had a heart attack. Luckily, she recognized pretty quickly what was happening. "I had clipped an article about women and heart attacks, so I knew women often had different symptoms from men," she says. She didn't have the "classic" symptom of crushing chest pain, but she did have symptoms that are common to many women.
"I was talking on the phone with my sister when it happened, and suddenly I just didn't feel right," she says. "I was sweating profusely, and I just wasn't tracking."
Mary Rose was lucky again—a neighbor heard her call for help and called 911. The paramedics performed an electrocardiogram (EKG) en route to St. Luke's Meridian, and sent the readings to the emergency department. Because of the data sent from the field, the cardiac team was ready for Mary Rose when she arrived.
It took a mere 16 minutes from the time she arrived at St. Luke's until Dr. Nathan Green unblocked her right coronary artery in the Cardiac Catheterization (Cath) Lab. It was an amazing feat, but this was not just luck—it was the result of years of planning and practice. St. Luke's cardiac team, area physicians, and emergency responders from around the region—both flight and ground—have been working together to make sure patients like Mary Rose get to the Cath Lab as quickly as possible. In the case of a heart attack, the saying goes, "time is muscle." The faster the blocked area is opened, the less damage to the patient's heart.
Mary Rose recovered, and went on to graduate from the cardiac rehabilitation program at St. Luke's Meridian. Today she's a regular walker and is determined to take part in one of her favorite activities: morel hunting in the forests of Central Idaho. She also continues to enjoy every day. "I've always relished life, and cherished it," she says, "but even more now."
Women and Heart Attack
Knowing the signs of a heart attack can save your life. The most common symptom in men and women is chest pain or discomfort, yet women are somewhat more likely to experience some of the less common symptoms, particularly shortness of breath, nausea/vomiting, unusual fatigue, and back or jaw pain.
To learn more about women, heart disease, and stroke, join Dr. Kristin Linzmeyer for a free seminar on February 2 at 6 p.m., at St. Luke's Meridian, 520 S. Eagle Road, in the Lemhi/Blackfoot/Paiute Rooms. Registration is recommended.