From Jim Lucker, Heart attack survivor and lifelong athlete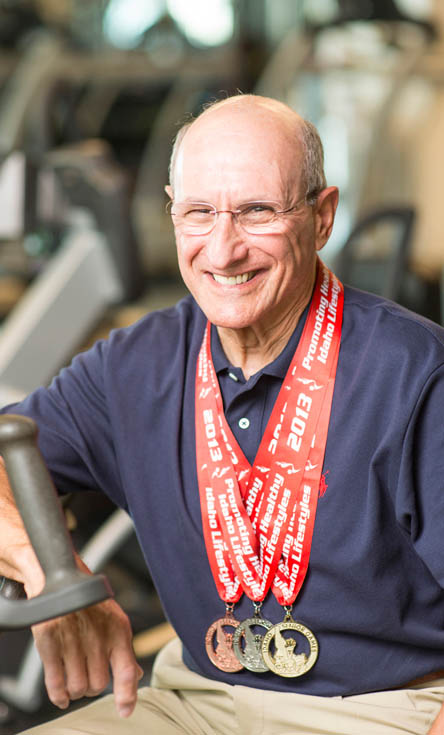 Even after recovering from a heart attack in 2013, Jim Lucker didn't stop playing and competing in athletics. In fact, his lifelong love of sports was likely a major reason he survived his heart attack and recovered so well afterward. Another likely reason is his other true love—his wife, Jude. "My wife is great with helping me with my diet," Jim says, "and we'll both be competing in the National Senior Games in Minnesota this July." Jude will compete in the 10K and Jim will run the 50, 100, and 200 meters, and throw the discus.
Exercise after a heart attack
Besides competing in track and field, Jim works out at the gym, plays softball, and skiis and rides mountain bikes with Jude. It's a full slate of activity, but it didn't happen overnight. It took Jim some time to build up his strength and regain his confidence after his heart attack.
Through his prescribed program of exercise at St. Luke's Heart Health and Rehabilitation Center, Jim wore a heart monitor every time he worked out. The readings were displayed on a large, overhead screen, allowing the exercise physiologists on "Team Jim" to be closely aware of how his heart was reacting during activity.
"I also could see the readings," Jim says, "and they reassured me that my heart could handle all this vigorous activity."
Research shows that cardiac rehab is associated with reduced mortality rates and hospitalizations, greater function and quality of life, and improved measurements such as cholesterol, triglycerides, and blood pressure. For Jim, it's helped him stay on the field and in the game—still a competitive athlete at age 73.
Give from the heart.
You can give the gift of life and health to a heart attack survivor. It's as easy as making a charitable donation to St. Luke's cardiac rehab program and designating it to help cover the cost of rehab for someone with a limited income. To learn more, visit us online or email [email protected]. Every gift makes a difference.